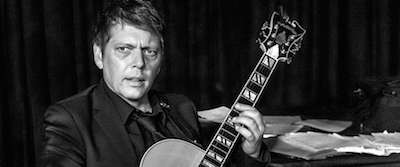 Date/Time
Sunday 4 October 2020
7:30 pm - 10:00 pm
Categories Jazz
Book here now Tickets £15 or £12 or £8 (10% booking fee added) – please pay what you can
Nigel Price – Guitar
Ross Stanley – Organ
Joel Barford – drums
with
Vasilis Xenopoulous – tenor sax

With extraordinary panache, tenacity, dedication and sheer force of personality, Nigel Price (who is an AMAZING guitarist) and his band who are all equally extraordinary musicians are going on tour. Who knows what the next three months brings – but we have everything crossed that here in South Devon we are still able to host them in front of a live audience on Sunday 4 October. Do whatever it takes to be there – this is going to be good!
Over a career spanning more than 25 years, award-winning jazz guitarist Nigel Price is one of the hardest working musicians in the business. He has more than 50 UK tours under his belt, appeared more than 500 times at Ronnie Scott's and played on more than 50 albums.
Musically, his blend of bebop, blues and mastery of the guitar continue to delight audiences and fellow musicians alike. He was awarded a Parliamentary Jazz Award (Best Jazz Ensemble, 2010), a nomination for a British Jazz Award (Best Guitarist, 2014) and a British Jazz Award (Best Guitarist, 2016).
Nigel toured Europe with various reggae and funk bands before settling on a solo guitar career and turning his attention to jazz. Citing early influences as Wes Montgomery, Joe Pass, John McLaughlin and the Mahavishnu Orchestra, Nigel honed his craft by attending gigs and sitting in with the players of the time.
He spent ten years with acid jazz outfit The Filthy Six, was a member of James Taylor Quartet for 3 years (with whom he recorded 5 albums) and performed with the legendary David Axelrod. He has also taught at The International Guitar Foundation at King's Place, London.
Tenor saxophonist, Vasilis Xenopoulos will make a guest appearance bringing great energy and fiery passion to the mix. He brings, as one reviewer notes, "old school warmth and modern day dynamism".
Here's how Nigel announced this on Friday 11 September, when the prospect of musicians announcing national tours seemed like something that might only be possible in the dim and distant future:
"Right then. There's been a lot of talk and confusion about what's possible right now, what the future holds and indeed what the reality of the live jazz scene is with socially distanced gigs.
This is the reality.
I don't know if I'm brave, stupid, clever, lucky or what. All I know is that I sweated blood to get a huge tour together and I refused to let it go. Over lockdown I watched, broken hearted as the 60 dates I'd worked so hard to organise gradually pulled out, one by one. However, I was amazed to find that that many venues, like me, we're watching and waiting, eager to get going as soon as the law would allow.
The day the Arts Council reopened in July I was ready with a bid and I'm pleased to say that it was successful. Massive thanks to them.
I completely understand, respect and empathise with anybody, promoters and musicians alike, who feel it's too early to open up. However, there are just as many that are prepared to get moving, despite everything.
Thank you from the bottom of my heart to all those promoters who put up with my tenacity and sorry to those that I had to let down.
We are DONE watching. We are DONE waiting. We are GOING ON TOUR!"
More about Nigel Price: nigelprice.biz
Buy music here via Bandcamp: https://nigethejazzer.bandcamp.com
Youtube: http://www.youtube.com/user/Nigethejazzer
Facebook: https://www.facebook.com/nigel.price.9
Twitter: https://twitter.com/Nigethejazzer
Instagram: https://www.instagram.com/nigethejazzer
Loads of footage, audio, images, tuition videos and a library of album reviews here: https://www.patreon.com/Nigethejazzer