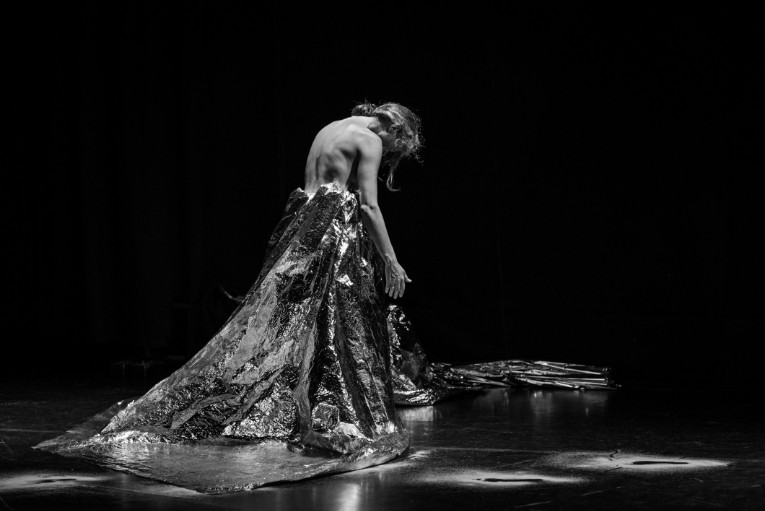 Date/Time
Friday 13 March 2020
7:30 pm - 9:30 pm
Categories Dance
Friday 13th March 2020
Drawing on ideas related to deep time, the night sky and landscapes of being, Night Flying is a duet with long-time collaborator David Williams. Together they explore a constellation of associations related to memory, change and wonder.
Night Flying combines movement, music, text, and objects to create images that unfold fluidly like dreams. A map of the night sky. Footprints in the sand. Breath, wind, flight. An encounter with an 'angel'. A journey into space carrying messages about our world for other alien civilisations. Ultimately, it offers 'a choreography for the small hours … for the 4:07 a.m. in you when the streets and cities and landscapes are stilling, when the world has evacuated the day, when you are yet to meet the sunrise' (Ian Abbott, Writing about Dance).
Jane Mason is an independent choreographer and performer based in Devon. She trained in theatre at Bretton Hall in the early 90's before freelancing as a dancer for choreographers including: Wayne McGregor, Charles Linehan, Wendy Houstoun and Deborah Hay amongst others.
Since 1997 she's made work in various collaborative contexts both independently and with companies such as: Lone Twin, Quarantine and The Gate Theatre. Since 2004 she's evolved a particular interest in the solo construct, creating solo performances often with live music. In recent years her collaborative approach has expanded to working closely with transforming materials, where she explores ways in which the movements of bodies and objects can create image worlds' of great affective resonance and tenderness. Usually triggered by some aspect of her own lived experience, these 'worlds' invite a quiet attention to detail, and an active slowing down into present process.