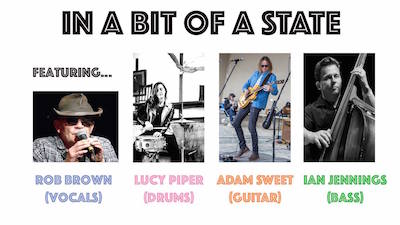 Date/Time
Monday 28 June 2021
7:30 pm - 10:00 pm
Categories Music
In a Bit of a State
Brainchild of frontman and voice artist Rob Brown, In a Bit of a State channels the music and inspirations of Bob Dylan, taking a voyage of discovery from Mississippi hill country to the dimly lit bars of Chicago, haunted by the sounds of Howlin' Wolf and Tom Waits.
Accompanying Rob are Ian Jennings on double bass,  Lucy Piper on drums and Adam Sweet on guitar. While all are established artists in their own right, this will be the band's debut performance.
Steve Dow & Jim Rintoul
Steve is a superb jazz and blues guitarist and singer, well known across the region, who happens to live right here in Ashburton. Tonight he's joined on double bass by Jim, who's based in Exeter and is one of the finest bassists in the South West.
Jam Session with the house band, Rhythm Doctors
Each month the jam session provides an opportunity for musicians (instrumentalists and singers) to sit in with the house band and see what comes out of the mix. This month's guests are Richard Pickle, Jonathan Pickle and Ray Kemp. If you would like to join the jam in future, please book in advance by emailing Mary Caffrey: mary.caffrey49@gmail.com
Pandemic policies. This information will be updated as things change.
Update: April 2022
Face masks: In the Main Hall, on the ground floor, these are recommended at all times, but are optional. Anyone who sits upstairs in the balcony MUST wear a face mask – with NO exceptions (not even those who are exempt). This is to allow people who are clinically vulnerable to have a place to sit where seats are naturally separated, so: (a) to provide a place for people who want to be as distanced as possible from others, and with anyone nearby wearing a mask; (b) as virus particles when airborne are generally heavier than air, this helps to mitigate the risk of transmission from people sitting in the balcony to audience members below.
The windows and doors of the venue will be open, allowing fresh air to be constantly moving through. Although we have heating, this might mean that the ambient temperature is a little cooler than some might like, and audience members should dress accordingly.
Please, if you can, take a Lateral Flow test before coming to the Arts Centre, and if this is positive, don't come. These tests aim to pick up anyone who is infectious at the moment of testing, so please take the test as late as possible on the same day before coming to the Arts Centre. If you test positive, a refund or transfer of your ticket to another event can be arranged, if you let us know before the start of the event, by emailing boxoffice@ashburtonarts.org.uk.