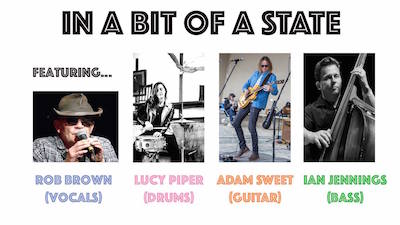 Date/Time
Monday 28 June 2021
7:30 pm - 10:00 pm
Categories Music
In a Bit of a State
Brainchild of frontman and voice artist Rob Brown, In a Bit of a State channels the music and inspirations of Bob Dylan, taking a voyage of discovery from Mississippi hill country to the dimly lit bars of Chicago, haunted by the sounds of Howlin' Wolf and Tom Waits.
Accompanying Rob are Ian Jennings on double bass,  Lucy Piper on drums and Adam Sweet on guitar. While all are established artists in their own right, this will be the band's debut performance.
Steve Dow & Jim Rintoul
Steve is a superb jazz and blues guitarist and singer, well known across the region, who happens to live right here in Ashburton. Tonight he's joined on double bass by Jim, who's based in Exeter and is one of the finest bassists in the South West.
Jam Session with the house band, Rhythm Doctors
Each month the jam session provides an opportunity for musicians (instrumentalists and singers) to sit in with the house band and see what comes out of the mix. This month already has some special guests Richard Pickle, Jonathan Pickle and Ray Kemp.If you would like to join the jam (numbers limited), please book in advance by emailing Mary Caffrey: mary.caffrey49@gmail.com
Pandemic policies. This information will be updated as things change.
Sat 15 May: From Step 3 of the UK government's 'roadmap', which comes into force on Monday 17 May 2021, we are able to open to a public audience. For all events from 17 May, until further changes are announced:
The windows and doors of the venue will be open, allowing fresh air to be constantly moving through. This may mean that the ambient temperature is similar to outdoors, and audience members should dress accordingly.
All audiences will be seated in socially-distanced bubbles. Please stay seated as much as possible while inside the building.
Hand sanitiser will be available as well as soap and water in the toilets; please use these frequently.
Bar service at the Arts Centre is carried out by volunteers. If they are available at any event, they will take orders at your seat, and bring drinks to you.
All members of the audience must wear a facemask while indoors, except if medically exempt, or when eating or drinking. Our experience is that this is one of the things most important for making some (perhaps more vulnerable) members of the audience feel safe to attend concerts. Whatever your opinion of the efficacy of facemasks in preventing the spread of the virus, please help to reassure others, and showing that you're thinking of them, by complying with this.
There are posters inside the building showing the QR code that's connected to the NHS Track and Trace app – please use this. We will also keep a record of all ticket buyers for the required period, and pass this on to the NHS or Devon Public Health if requested.