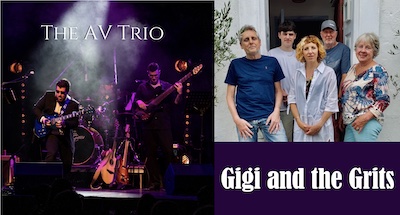 Date/Time
Monday 31 July 2023
7:30 pm - 11:00 pm
Categories Blues
Book here now: £12 full price • £9 or £6 if you prefer – please pay what you can*
Led by a rising star in the blues world, Alex Voysey Trio shows are packed with sparkling guitar performances, phenomenal musicianship, breath-taking grooves and riffs, and a deep passion for blues. The trio brings together new and virtuosic twists on great artists from Robert Johnson and BB King through Stevie Ray Vaughan, to the more lyrical blues of Eric Clapton and John Mayer, right up to contemporary artists Joe Bonamassa, Joanne Shaw Taylor and many more in between, plus Alex's original blues material from his debut album 'Head In A Blur'
Heavily inspired by Joe Bonamassa, Alex is fast becoming a leading exponent of his virtuosic and complex blues writing and has recently been appointed Youth Ambassador to the UK Blues Federation. Together with Ben Hands on bass and Paul Arthurs on kit, these three musicians bring diverse musical backgrounds with a huge breadth of experience between them; they revel in their shared love of blues.
"WOW, I've just got home after seeing The Alex Voysey Trio. They were superb, a blues band of the finest order'
"A brilliant night – Alex Voysey's guitar playing is out of this world"
"What a talent Alex Voysey and his trio are – loved his song 'Watch The Sky"
"WOW! What a Show! What Musicianship! Alex Voysey is not only a superb musician but plays with a feeling and a passion that is true to the meaning of the blues."
"Alex Voysey's playing was a real eye-opener – it looks effortless and sounds amazing. His trio sounded like they'd been playing together for decades and Ben Hands's dexterity on his 6 string bass was also a revelation. There was a real chemistry between the three players and they went everywhere from a very sparse 12-bar, to an amazingly full sound that you'd normally only get from a 4 or 5 piece band. Alex is clearly a flag-bearer for the new generation of young blues artists and is definitely one to watch out for."
Head In A Blur | Alex Voysey (bandcamp.com):
https://alexvoysey.bandcamp.com/album/head-in-a-blur
Gigi and the Grits formed at the beginning of 2023, and has busy from the start. Talented and experienced musicians in their own right, they have come together to form the Grits, delivering a professional Americana Blues sound. They interpret old and new blues songs, and celebrate women in blues: Etta James, Big Mama Thornton, Bonnie Raitt among others. The band creates new interpretations of old blues classics, keeping the blues alive and kicking today.
Vocalist Emily Smith, aka Gigi, born in the Appalachian mountains of Virginia, has been playing festivals and venues over the UK for the past 10 years. Raised on Americana, her voice has that authentic sound for this genre, moving from deep southern soul to roots rock.
Tony Slater on lead guitar has been playing indie, rock, blues and funk in London for the last 35 years. Recently re-located to Devon, Tony arrived just in time to join the Grits. Sometimes joined by guitarist and vocalist Ray Kemp who's toured the UK and European scene for years playing rock and blues. Tony and Ray intuitively complement each other, creating blues to feed your soul.
The Grits rhythm section: Mary Caffrey, rock steady bassist, a veteran of the festival and live music scene. Rhythm and Blues of all kinds has long been her first love. She runs this 'Not only but Also the blues' night at Ashburton Arts Centre on the last Monday of every month and has a knack of pulling musicians together and creating a great show. Multi instrumentalist, Archie Tweedie on drums, holds it down. Only 14 when he first hit the stage, Archie has been playing pubs, clubs and festivals for the past 6 years His first band 'This Ain't Jazz' has been a great success, getting airplay on BBC Radio 1.
Gigi and The Grits on Facebook
Watch on YouTube
Followed by a blues jam/open mic session. If you would like to be included, or to find out more, email Mary Caffrey, mary.caffrey49@gmail.com
* See Access, Tickets & Finding Us for more about why there are three ticket prices, plus other useful info about coming to events at Ashburton Arts Centre.