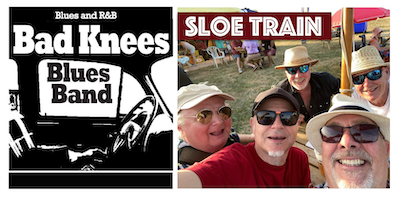 Date/Time
Monday 24 April 2023
7:30 pm - 10:00 pm
Categories Blues
Book here now: £12 full price • £9 or £6 if you prefer – please pay what you can*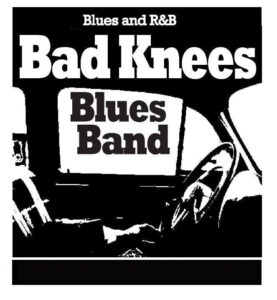 The Bad Knees Blues Band formed 18 years ago and have been playing a mix of Classic and Original blues material at venues and festivals across the South West.
Band personnel are Jeremy Doyle (Keyboards and backing vocals), Keith Smallwood (Drums) Martin Wheeler (Guitar and vocals) Jonathon Pickles (Bass and backing vocals) and Richard Pickles (Guitar,Slide Guitar and vocals).
Richard is the founder member of the band beginning his  musical experience back to the 1960s when he played in bands that supported such luminaries as David Bowie, Canned Heat ,Free and Derek and the Dominoes. A set of good rocking blues is guaranteed !
Sloe Train says: "We play our songs for fun and the love of live performance. Think Bonamassa meets The Bluesbreakers, with a twist of early Fleetwood Mac. Add in a little Ainslie Lister and King King influence and you have a heady cocktail of contemporary blues that is aching to be played live."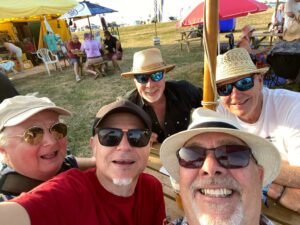 ==
This is part of the Tinners Moon Festival 2023. See ashburtonarts.org.uk/tinnersmoon2023 for more about all of the events. All tickets at wegottickets.com/tinnersmoon2023
Doors and bar open at 7pm
* We usually have three ticket prices – please pay what you can. If you can pay the full price, that's great. If choosing a cheaper ticket allows you to come to more things, then please do! Ticket receipts are split between the artists (it's usually their livelihood!) and the arts centre (keeps the place going). Except on the rare occasions when we have a sellout gig on our hands, it's always better to have someone here in the audience than an empty seat, so genuinely, please pay whatever you can.
See Access, Tickets & Finding Us for more about why there are three ticket prices, plus other useful info about coming to events at Ashburton Arts Centre: getting here, parking, loos, PA tickets, etc.