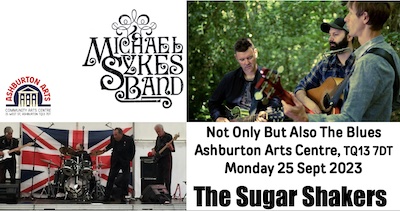 Date/Time
Monday 25 September 2023
7:30 pm - 10:30 pm
Categories Blues
Book here now: £12 full price • £9 or £6 if you prefer – please pay what you can*
The Michael Sykes Band
Michael, James, Hugh and Russell create an original sound that they say "peers into the past and reaches into the future". The band creates an earthy, bluesy, ambient sound with roots in blues-rock, folk and jazz. "From timeless songs to edgy, captivating improvisation, performances are eclectic, dynamic and unique, reflecting the diverse musical nature of the group."
"This is dirty blues at its finest" BBC Introducing Devon & Cornwall
"Get ready to be swept away by the rolling beauty of 'The River', the magical new song by the Michael Sykes Band" BBC Introducing Devon & Cornwall
Check out their song Amber and Gold on YouTube: https://youtu.be/Ed3Nau2js2E
and tasters of the tracks on the 2018 EP: https://youtu.be/8CA8Cx0hrFw
================
The Sugar Shakers
The Sugar Shakers play music from across the spectrum of R&B from its early days in the 50s through the 60s and into the 70s with music from Dr Feelgood to Howlin' Wolf, Rufus Thomas to BB King and from the Rolling Stones to Ray Charles and beyond. Throwing in some obscure morsels for good measure, this band will take you on a journey from the Mississippi delta to the Thames delta. One minute in Chicago the next in Memphis then a detour to Southend and Canvey Island. The Sugar Shakers promise, "a night of solid R&B for dancing, for listening and just simply for enjoyment."
Martin Tucker: vocals & harmonica
Rob Bright: guitar & backing vocals
Roger Stone: bass guitar
Ian Loud: drums & backing vocals
Walkin' The Dog live at The Den, Teignmouth, June 2022:
After the bands there's a blues jam session. If you'd like to sing or play, email mary.caffrey49@gmail.com in advance, or turn up on the night.
* See Access, Tickets & Finding Us for more about why there are three ticket prices, plus other useful info about coming to events at Ashburton Arts Centre.