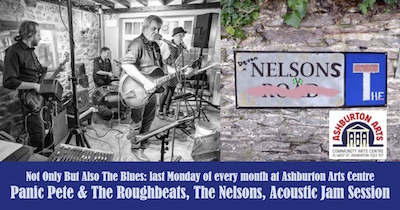 Date/Time
Monday 30 May 2022
7:30 pm - 11:00 pm
Categories Music
Book tickets here – £10 or £8 or £5  (pay what you can – or what it's worth to you)
On the last Monday of every month we feature artists based in the South West from the bluesier end of the musical spectrum. Contact organiser Mary Caffery (mary.caffrey49@gmail.com) if you're interested in playing or being part of the jam.
Panic Pete & The Roughbeats
Panic Pete & The Roughbeats specialises in the early roots of rock, specifically 'rock's first 10 years', from Elvis's breakthrough in 1954 through to the British Invasion of 1964. Early rock'n'roll was a blues-based repertoire: Not Only The Blues, But Also…
The band is here on Facebook
The Nelsons 
The Nelsons is a newly formed band from Brixham. They play an eclectic mix of original material that hovers on the borders of rock and country. Come to a Nelsons gig and expect to hear songs covering a wide diversity of topics: everything from female serial killers to the American civil war.