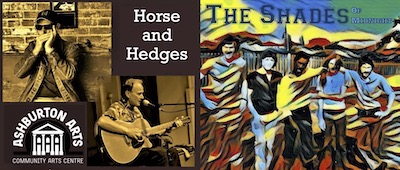 Date/Time
Monday 26 June 2023
7:30 pm - 10:30 pm
Categories Blues
Book here now: £12 full price • £9 or £6 if you prefer – please pay what you can*
Another great line up of two of the best blues acts in the South West, followed by a blues jam session. The live music starts pretty sharp after 7.30pm, as we have three sets to fit in before the end of the night around 11pm. This time we have:
The Shades of Midnight
The Shades of Midnight was one of East London's most popular bands in the 1960s playing a mix of Soul, Tamla Motown, and Blues with an ever-changing line up of great musicians making their way in music. One of the more stable musicians, on Hammond organ, was Basil Bunelik, and he has brought together some of the best people he has played with over the last 50 years for this nostalgia gig, recalling the sound and spirit of Blues in the 60s.
Horse and Hedges
Jeff "The Horse" Horsey (vocals, harmonica and slide guitar) has played festivals and gigs in Europe and USA, Memphis to Louisiana for 40 years. A consummate blues man, Jeff has played with artists such as Robert Plant, Peter Green and Geno Washington. With Jeff is Gareth Hedges (vocals and guitar), well known for blues, jazz and bluegrass. Gareth travelled the Mississippi Delta to Tennessee Hills in the 1970s. Playing with American Greats, Gary Davis, Doc Watson, Bill Monroe and Peter Rowan. Jeff and Gareth together are pure gold Blues.
"Excellent indeed"  Paul Jones, BBC Radio 2, the Rhythm and Blues Show, June 2015
Check them out on them here on Spotify about which: "The numbers on this CD get to the heart of the music, making the most of both artists' excellent vocals, including singing harmonies on blues (which is a rare thing to find). The aim was to produce an authentic, pure blues album but the original material ranges from electric slide to solo acoustic guitar pieces, covering a wide breadth of styles."
Followed by a blues jam/open mic session. If you would like to be included, or to find out more, email Mary Caffrey, mary.caffrey49@gmail.com
* See Access, Tickets & Finding Us for more about why there are three ticket prices, plus other useful info about coming to events at Ashburton Arts Centre.