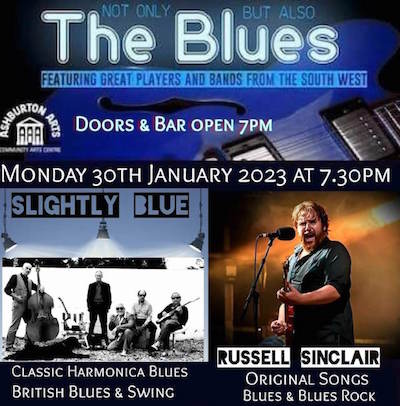 Date/Time
Monday 30 January 2023
7:30 pm - 10:00 pm
Categories Music
Book here now: £12 full price • £9 or £6 if you prefer – please pay what you can*
Another great line up of two of the best blues acts in the South West, followed by a blues jam session. The live music starts pretty sharp after 7.30pm, as we have three sets to fit in before the end of the night around 11pm. This time we have:
Russell Sinclair and the Smokin' Locos
Russell is a well-deserved star of the South West blues scene. Based in Plymouth, he's played here at the Arts Centre several times, and is always superb. If you haven't seen him yet – do yourself a favour and get along this time. Last time he was here solo – this time he'll have the Smokin' Locos of Adam and Ric, and possibly Mike on Harmonica.
Slightly Blue:
Singer Buddy writes: "We are a five piece band. Mainly blues harp. Our set list spans right across the Blues genre. From Classic Blues by the greats such as Sonny Boy Williamson and Muddy Waters and others. We play Some lively West coast swing, and pay homage to some British Blues musicians such as Ian Siegal and Steve West Weston & Will Wilde.
"Classics, modern blues, and everything in between.
Some nice ballads, including Ette James and Paul Butterfield, nine below zero among others.
Our Band is made up with Mark double and acoustic bass, Rob on lead guitar and banjo, Ed harmonica and Uke. Ian formally of Edison Lighthouse on Cajon and Buddy on vocals."
The Blues jam follows – usually featuring some of the musicians from the bands above, with other great local players. If you're interested in playing, contact mary.caffrey49@gmail.com
* See Access, Tickets & Finding Us for more about why there are three ticket prices, plus other useful info about coming to events at Ashburton Arts Centre.