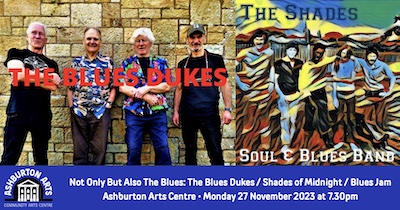 Date/Time
Monday 27 November 2023
7:30 pm - 11:00 pm
Categories Blues
Book here now: £12 full price • £9 or £6 if you prefer – please pay what you can*
The Blues Dukes
Jeff The Horse Horsey:  harmonica, guitar and vocals
Gareth Hedges: guitar and vocals
George Nixs: lead guitar and vocals
Colin Boyd: bass guitar and vocals
These four veterans of the SW music scene have formed a Blues and Roots band.
Gareth Hedges has played and recorded in the UK, America, Europe and Australia. He is a wonderful guitar picker and has a lived-in, authentic vocal style which he learned first hand from artists like Bill Munroe, Doc Watson and Peter Rowan.
George Nixs is a flambuoyant, virtuoso lead guitarist and his playing lights up a lot of the band's material. He was a session player at Abbey Road Studios and counted Peter Green, Eric Clapton and the Hollies among his musical friends. He played with future AC/DC frontman Brian Johnson, in the band Geordie in the 1970s.
Colin Boyd is well known locally as one of the best bass players around and has a distinctive style all his own. In the past he has, famously, worked with The Kinks and Lou Reed.
Jeff Horsey played in Exeter based band Junkyard Angels and toured widely, backing Louisiana legend Tabby Thomas alongside artists as diverse as Geno Washington, Peter Green and even Screaming Lord Sutch. Here he concentrates on singing and playing harmonica but also plays some slide guitar.
Together they perform funky versions of well known blues covers, lesser known songs you wished you had heard before and a few original numbers, all blending into an exciting, highly listenable gumbo with lots of harmony singing giving them a special edge. The music sweeps from almost bluegrass acoustic numbers to full on Chicago-style blues, touching base with rock n' roll and skiffle along the way.
The Shades of Midnight
The Shades of Midnight was one of East London's most popular bands in the 1960s playing a mix of Soul, Tamla Motown, and Blues with an ever-changing line up of great musicians making their way in music. One of the more stable musicians, on Hammond organ, was Basil Bunelik, and he has brought together some of the best people he has played with over the last 50 years for this nostalgia gig, recalling the sound and spirit of Blues in the 60s.
Followed by a blues jam/open mic session. If you would like to be included, or to find out more, contact Mary Caffrey on mary.caffrey49@gmail.com.
* See Access, Tickets & Finding Us for more about why there are three ticket prices, plus other useful info about coming to events at Ashburton Arts Centre.