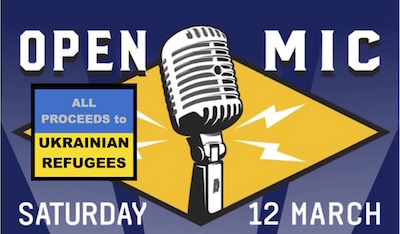 Date/Time
Saturday 12 March 2022
7:30 pm - 10:30 pm
Categories Music
Book here now: £5 or £3 or £0 – if you'd like to perform, please email boxoffice@ashburtonarts.org.uk
The stars appearing tonight are … you, and you – and you too!
Have you got a song, or a poem, a joke or a yarn?
There's loads of great talent around these parts – come and partake, and contribute!
If you'd like to perform, email boxoffice@ashburtonarts.org.uk
Everything from the tickets sold and money collected on the night will go to support Ukrainian Refugee Charities.
There is also a Ukraine Benefit gig happening at Ashburton Town Hall on the same night. You're more than welcome to move between the two events, as long as there's room in the venues.