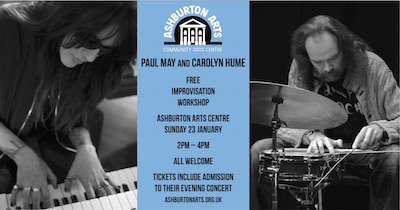 Date/Time
Sunday 23 January 2022
2:00 pm - 4:00 pm
Categories Music
(Price includes admission to the evening concert).
Paul is a superb drummer and percussionist. Carolyn a fabulous pianist (and other keys). They're lovely people, who approach music in their own special way, and create wonderful soundscapes. This is a chance to spend some time playing with them, on any instrument.
In the evening at 7.30pm, Carolyn and Paul will perform a concert. Some participants in the workshop might be invited to join Paul and Carolyn during this.
Paul writes, "We will discuss our approach to improvisation and the methods we use. We will encourage an exchange of ideas, explore potentials and outcomes. We will play together solo, duo form, as trios and as a whole, larger group. Those who would like to participate in the gig will stake their claim here. We will introduce landscape and scenario, both physical and emotional, to challenge, surprise and enlighten one and other. All abilities shall be welcomed and included."
You're welcome to come to this as a participant, or spectator. All tickets for the workshop include admission to the evening concert.
Pandemic policies. This information will be updated as things change.
December 2021:Omicron Update
Everyone must take a Lateral Flow test before coming to the Arts Centre, and if this is positive, don't come. These tests aim to pick up anyone who is infectious at the moment of testing, so please take the test as late as possible on the same day before coming to the Arts Centre.
A refund or transfer of your ticket to another event can be arranged, if you let us know before the start of the event, by emailing boxoffice@ashburtonarts.org.uk.
The windows and doors of the venue will be open, allowing fresh air to be constantly moving through. This may mean that the ambient temperature is similar to outdoors, and audience members should dress accordingly. From October, when necessary, we are switching on the electric heaters in the main hall, even though the windows are open. This makes the central part of the hall warmer. The seats at the sides under the balcony don't get as much benefit from this.
Face masks must be worn whenever inside the building, except – briefly – when eating or drinking.
Anyone who sits in the balcony MUST wear a face mask – with NO exceptions (not even those who are exempt). This is: (a) to provide a place for people who want to be as distanced as possible from others, and with anyone nearby wearing a mask – the seats in the balcony are naturally separated; and (b) as virus particles when airborne are generally heavier than air, this helps to mitigate the risk of transmission from people sitting in the balcony to audience members below.
Hand sanitiser will be available as well as soap and water in the toilets; please use these frequently.
Bar service at the Arts Centre is carried out by volunteers. If enough are available, they will take orders at your seat, and bring drinks to you. Otherwise, you can order drinks at the bar, one person at each end of the bar at a time, and take them immediately to your seat.
All members of the audience must wear a face mask while indoors, except if medically exempt, or when eating or drinking. Our experience is that this is one of the things most important for making some (perhaps more vulnerable) members of the audience feel safe to attend concerts. Whatever your opinion of the efficacy of face masks in preventing the spread of the virus, please help to reassure others, and showing that you're thinking of them, by complying with this.
There are posters inside the building showing the QR code that's connected to the NHS Track and Trace app – please use this. We will also keep a record of all ticket buyers for the required period, and pass this on to the NHS or Devon Public Health if requested.