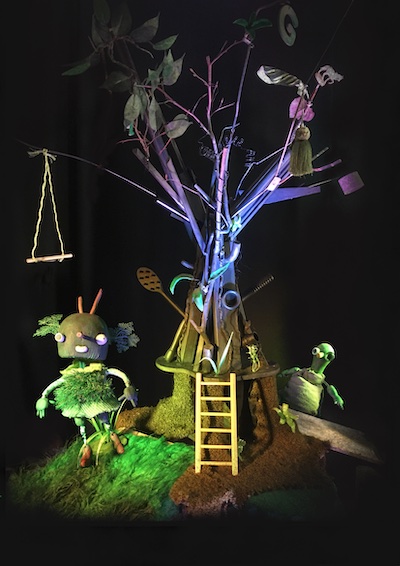 Date/Time
Sunday 30 April 2023
8:00 pm - 9:00 pm
Categories Performances, shows, and events
Book here now: £15 full price • £10 or £7 if you prefer – please pay what you can*
Unhinged puppetry for adults and older children!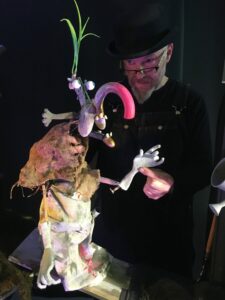 Everything was perfect in the midnight garden. The flowers grew, the fairies flew, the grobbity grobbits danced a merry dance in the twinkly moonlight. Then one day, without warning, the deranged gardener from next door threw the shed door wide, and let loose the massive-evil- pitchfork-of-doom.
Pixiematosis is the happy/sad tale of tiny extraordinary creatures living in a nocturnal paradise who realise, too late, that they're being exploited for a sinister purpose.
Featuring sqwonky puppets, odd-automata and a slew of charity-shop rejects, Pixiematosis is not unlike watching a lost episode of Bagpuss, filmed by the Tales of the Unexpected crew… or witnessing Fingermouse being folded up and used to stop a pub table wobbling.
Come along, be charmed, be appalled; get swept up in the existential madness of it all.
Probably only suitable for adults and 14+ (this is guidance only)
60 mins – no interval
The OBJECT Project is based in Leeds and is curated by Marc Parrett, puppetry director, designer, performer and maker. He also lectures in puppet manipulation and object theatre. Marc has performed across the UK, Europe and Australia and has previously created puppets and directed puppetry for Aardman Animations, BBC3, Leeds Playhouse, Green Ginger, Egg Theatre Bath, Theatre by the Lake Keswick, Bird in the Hand, Bristol Old Vic, Travelling Light and Sally Cookson.
Instagram @the_object_project
objectproject.info
==
This is part of the Tinners Moon Festival 2023. See ashburtonarts.org.uk/tinnersmoon2023 for more about all of the events. All tickets at wegottickets.com/tinnersmoon2023
Doors and bar open at 7.30pm
* We usually have three ticket prices – please pay what you can. If you can pay the full price, that's great. If choosing a cheaper ticket allows you to come to more things, then please do! Ticket receipts are split between the artists (it's usually their livelihood!) and the arts centre (keeps the place going). Except on the rare occasions when we have a sellout gig on our hands, it's always better to have someone here in the audience than an empty seat, so genuinely, please pay whatever you can.
See Access, Tickets & Finding Us for more about why there are three ticket prices, plus other useful info about coming to events at Ashburton Arts Centre: getting here, parking, loos, PA tickets, etc.