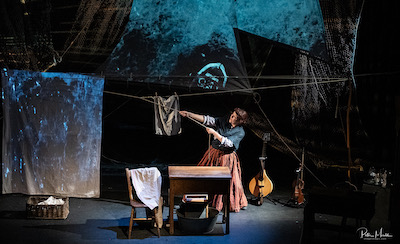 Date/Time
Saturday 2 December 2023
7:30 pm - 9:00 pm
Categories Theatre
Book here now: £15 full price • £10 or £7 if you prefer – please pay what you can*
Ploughing The Salt Sea is a solo autobiographical music theatre show, drawing on Bev Lee Harling's recently discovered rich heritage of centuries old, fishing family roots in Hastings. The narrative, drawn from the suds of the Old Town Wash House, told through the eyes of the overlooked women, seeks to rewrite their stories of boats lost at sea and local life, back into our current consciousness through original and traditional folk song.
While the obvious themes here are come from a coastal fishing community, there are universal experiences in the show including secrecy, loss and finding your own voice, which are common to women from every background.
In the morning before the performance, Bev Lee Harling will lead 'Fishing For Creativity' a community workshop where everyone is invited to celebrate our unwritten heritage, exploring our female ancestry. This will involve sharing stories of our mums, aunts, grannies, neighbours, family friends and creating written and visual memories, which will become part of Bev's tour. Tickets for this are free, and can be booked here in advance. It's happening at the Arts Centre from 11am – 12.30pm on Sat 2 December.
Following each performance, the audience is invited to join a reflective, post show, community conversation with Bev, guided by Dr. Mo Cohen. This is our opportunity to come together and get to the heart of the experience we just shared.
Written and performed by Bev Lee Harling.
Directed by Dr. Mo Cohen (who brought the Drop The Story festival to the Arts Centre a few years ago)
Sound Design: Frank Moon
Set, Video & Costume Design: Simon Daw
Choreography: Arthur Pita
Creative Producer: Mae Dewsbery
Running time: 80 minutes, no interval
"Harling is a multi-talented singer songwriter and gifted musician and in her debut as an actor.. She instantly has us in the palm of her hand"  Theatre Nation
"A vivid alive portrait of a small town told through beautifully realised character studies"
Bev Lee Harling
Declared 'simply brilliant' by BBC6 DJ Gilles Peterson, Bev is a multi-genre vocalist, violinist and composer working across performance, theatre, dance, film and opera bringing classical, folk, jazz and found sounds to her projects and collaborations.

 Bev's debut album Barefoot in Your Kitchen, released on Wah Wah 45s, was named Album of the Week on BBC Radio 6 Music and enjoyed widespread global radio play, as has her latest album Little Anchor, a musical travelogue exploring motherhood, family and loss.
Previous artist/producer collaborations include Talvin Singh, Netsky, Katharine Blake, Kavus Torabi, Sophie Barker, The Destroyers and Cleveland Watkiss.

 Bev has been featured on many soundtracks for dance-theatre and ballet productions at venues such as the Royal Opera House, Sadler's Wells, Northern Ballet, and Live from Television Centre BBC4. She performed live with ballet stars Edward Watson and Wendy Whelan in their show Other Stories, at the Royal Opera House and City Centre New York.
 Collaborating with composer Frank Moon and choreographer Arthur Pita, their Sadler's Wells production of Ten Sorry Tales received critical acclaim in Autumn 2022.
 She has composed several short film scores including the Channel 4 production Thinspiration, highlighting eating disorders in young women.

 Bev has toured widely in the USA and Europe with classical chart topping act Mediaeval Baebes. Most recently she was vocal soloist for Karl Jenkins's Stabat Mater in Marbella, Spain and for Bloom Britannia composed by Orlando Gough for the Barefoot Opera company in 2021.
* See Access, Tickets & Finding Us for more about why there are three ticket prices, plus other useful info about coming to events at Ashburton Arts Centre.