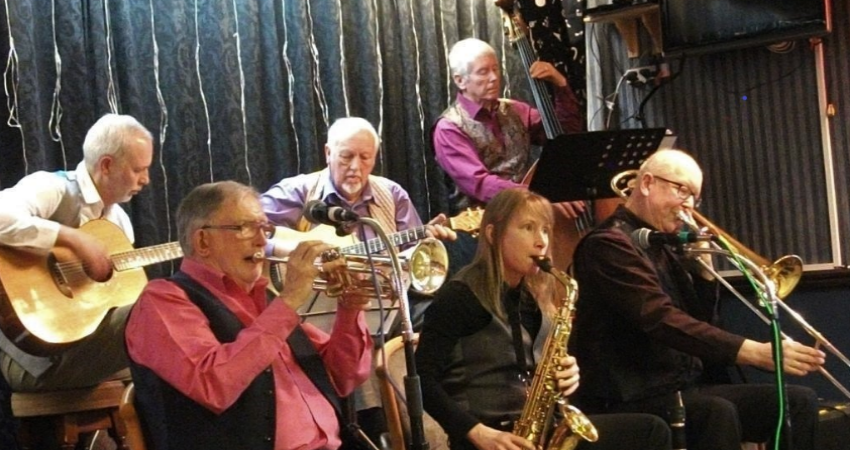 Date/Time
Sunday 5 September 2021
1:00 pm - 3:00 pm
Categories Jazz
This is a swinging sextet whose "Le jazz hot", prior to the Covid lockdown, had been attracting a lot of attention, and many favourable comments, from audiences and dancers throughout the South-West and beyond. Now they're re-emerging and playing at Ashburton Arts Centre on the first Sunday afternoon of every month.

The Riviera is the English Riviera, of course, Torbay and the South Devon coastal region. Veteran band leader and trumpeter, John Shillito is a former Ashburton resident who now lives in Totnes, and all the other members are locals, too, from Ashburton, Buckfastleigh, Newton Abbot and Teignmouth. All are seasoned professional musicians with successful long careers, and who retain enthusiasm and affection for their music.
The band has a very accessible and musical repertoire, much of it originating from the sounds of the Swing era of the 1930s and 40s. The front line brass and reeds blend with empathy and energy, buoyed by a pulsating rhythm section that adds echoes of Parisian "manouche / gypsy" jazz of the Hot Club of France.

The band has a "free and easy" ensemble sound, but it's created with care and warmth as the musicians listen, relate and share fun with each other, and with their audiences. The tunes you'll hear are melodic, memorable and foot-tapping, with occasional engaging vocals from John and Zoe. You'll find it a very listenable and danceable ensemble, whose music originates out of New Orleans and comes via Harlem, via Paris and, of course, via Torbay. Rhythmic or romantic, sentimental or swinging, bluesey or bright and breezy, the Riviera Ramblers are happy to make their music for your pleasure."
Doors and bar open at 12.30pm. Music starts 1pm
"From the very first number I was quickly aware that I was listening to an exceptional band."
Pandemic policies. This information will be updated as things change.
Update: April 2022
Face masks: In the Main Hall, on the ground floor, these are recommended at all times, but are optional. Anyone who sits upstairs in the balcony MUST wear a face mask – with NO exceptions (not even those who are exempt). This is to allow people who are clinically vulnerable to have a place to sit where seats are naturally separated, so: (a) to provide a place for people who want to be as distanced as possible from others, and with anyone nearby wearing a mask; (b) as virus particles when airborne are generally heavier than air, this helps to mitigate the risk of transmission from people sitting in the balcony to audience members below.
The windows and doors of the venue will be open, allowing fresh air to be constantly moving through. Although we have heating, this might mean that the ambient temperature is a little cooler than some might like, and audience members should dress accordingly.
Please, if you can, take a Lateral Flow test before coming to the Arts Centre, and if this is positive, don't come. These tests aim to pick up anyone who is infectious at the moment of testing, so please take the test as late as possible on the same day before coming to the Arts Centre. If you test positive, a refund or transfer of your ticket to another event can be arranged, if you let us know before the start of the event, by emailing boxoffice@ashburtonarts.org.uk.