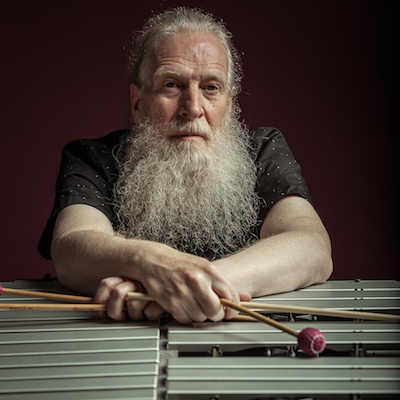 Date/Time
Wednesday 26 October 2022
7:30 pm - 10:00 pm
Categories Jazz
Book here now: £14 full price, £10 or £7 if you prefer: you choose, pay what you can*
Amazing vibes player, Roger Beaujolais is back! I first heard him on the John Peel programme with The Chevalier Brothers in the 1980 (writes Arts Director, Andy Williamson). I'd already fallen in love with the sound of his instrument listening to Gary Burton playing with Stan Getz. Roger has become one of a handful of of top UK players of this lovely old piece of tuned percussion.
He's had an amazing musical life – do read his full auto-biog here – here's an extract:
"Over the years I've been in many bands run by others. Some more successful than others (like the pop band Smoke City) but as a result I've done many gigs supporting well known artists over the years. By supporting I mean I was in the support act. Always the bridesmaid etc. Bands/artists that I've supported include Nina Simone, David Sanborn, Manhattan Transfer, Marcus Miller, Clarence Carter, Vital Information, Herbie Hancock Trio, Tribute to Miles Davis (featuring Wayne Shorter, Herbie Hancock, Dave Holland, Tony Williams & Wallace Roney), Garbage, Lee Scratch Perry, Roots, Suzanne Vega, Robben Ford, John Scofield with Eddie Harris, Spyrogyra, Robben Ford, Mike Stern & Bob Berg (with Dennis Chambers), Michael Buble, Alex Chilton, Marianne Faithful & Mike Oldfield."
With the Blue Vanguard Trio: Craig Milverton, piano; Al Swainger: bass; Coach York: drums.
This is the next installment of the Blue Vanguard club's monthly residency at Ashburton Arts Centre, featuring some of the UK's finest jazz soloists with the South West's premier rhythm section.
* See Access, Tickets & Finding Us for more about why there are three ticket prices, plus other useful info about coming to events at Ashburton Arts Centre.