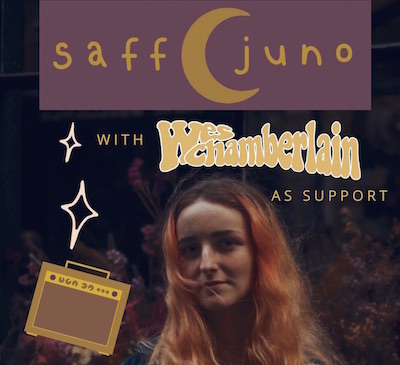 Date/Time
Friday 18 February 2022
7:30 pm - 10:00 pm
Categories Music
Saff Juno is a fabulous and original singer and songwriter. After hearing a bit of one of her rehearsals, it was obvious that she and her band needed to headline their own night here, and here it is!
Here's how she describes her music:
"Saff Juno brings listeners to an undergrowth of enchanting indie pop. Lyrically expanding the conversation on taboo topics, as well as bringing fun songs people can move to! A show of buzzing electric guitars, danceable drums, and vocals compared to the likes of Joni Mitchell and The Cocteau Twins. Going from the glittering acoustic sound of December Daisies, to the thunderous Nightmare Nightmare, Saff Juno offers a dynamic range that anyone can enjoy."
More at facebook.com/SaffJuno and youtube.com/c/SaffJuno/featured
December Daisies (debut single)
Nightmare Nightmare  Acoustic Live Band Session
On Wes Chamberlain, Saff writes:
"Wes Chamberlain brings a huge sound, from laid back head turners to the songs you can't help but dance to! You can see the emotion Wes puts into his tracks, and paired with swirling instruments, it's an experience you won't want to miss. With the helping hand of his band 'The Engineers', he will come to the stage and give you all a party!"
Wes opens this recent compilation of live performances from young local musicians.