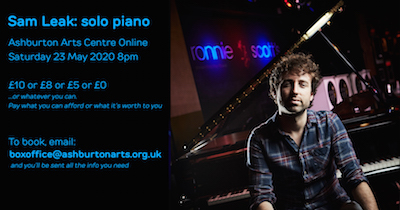 Date/Time
Saturday 23 May 2020
8:00 pm
Categories Jazz
Sam Leak performs contemporary jazz with a gospel-tinged, and folk-inspired, freedom and abandon. Conjuring up the joy and emotion typified by Paul Bley and Keith Jarrett, he maintains a sense of the tradition whilst performing music that is very much rooted in the UK Jazz movement of the moment. Jazzwise magazine, noting his "adventurous genre-crossing musical sensibility, with a surprise at every turn and no source of inspiration off-limits," described his most recent live-streamed concert as an "artistic success" – do join us for this one.
His most recent album release "Adrift" recorded in duet with Lee Konitz/Ben Wendel pianist Dan Tepfer, has been described as "compelling" and "reaching far beyond the jazz loop" by the Guardian's John Fordham, and "astonishing" by The Wire's Marcus O'Dair.
To book, email: boxoffice@ashburtonarts.org.uk. You'll be sent all the details you need.
As is usual for concerts at the Arts Centre, there's a choice of ticket prices: £10 or £8 or £5 or £0 – or whatever you can afford.
This is the first live music concert we're doing online since forced to close by the corona virus. These seem like reasonable prices for what it sure to be a first class performance. The ticket receipts will be shared between the artist and the Arts Centre, just as if it were a regular live performance. Please choose whichever price is right for you. If you can afford the full price, that's great – if any of the others is better for you, that's fine too, or you can choose your own amount. Many people's earnings right now have been reduced to little or nothing – if that's you, please just choose £0, then come back and pay more when things  improve!