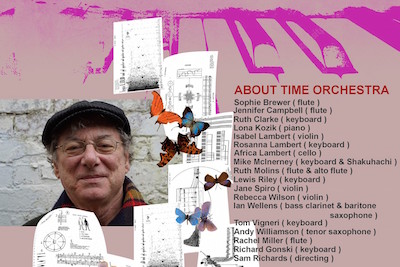 Date/Time
Sunday 6 October 2019
7:30 pm - 9:30 pm
Tickets: £13 or £10 or £6 – You Choose! Book now
SAM RICHARDS is something of a 21st century polyglot – composer, improviser, jazz musician, folklorist, writer, broadcaster, poet and teacher.
He studied at the Guildhall School of Music and Drama with composer/improviser Alfred Neiman and also took part in events organized by Cornelius Cardew. His music has taken him to the Czech Republic, France, Canada and the United States as well as all over Britain. A version of "About Time" (for voices) was performed at the San Francisco Public Library. "Fish Music" (for string players and live or filmed fish) was performed in front of the big screen in the street in Plymouth as well as in the National Marine Aquarium and at the Millennium Centre, Cardiff.
His published books include Sonic Harvest (about musical democracy), John Cage As…, The Engaged Musician and Soundings (essays about music). He also wrote the history of Dartington College of Arts.
ABOUT TIME has been an evolving piece since it was first conceived in 1998. Its central idea, explored in its four pages, involves the way musical time passes. When there is very little happening our experience of time is different to when much is happening. Each performance throughout the last 20 years has seen various re-writes, especially of pages 3 and 4. Sam Richards maintains that its 2019 version is the final one.
Although tightly conceived in four composed sections, one per page, its performers are asked to make creative contributions throughout. "About Time" brings together Sam's twin passions of composition and improvisation.
The first half of the Ashburton concert will consist of a couple of songs in folk-influenced style, plus "Four Urban Landscapes" performed by Lona Kozik (solo piano) and "Butterfly Tunes" played by Flutecake (Sophie Brewer, Jennifer Campbell, Ruth Molins – flutes).
The About Time Orchestra for the Ashburton performance consists of seventeen leading musicians, each well-known for their own work) from around South Devon, most of whom played the piece before for Sam's 70th birthday concert in June in Totnes.
Sophie Brewer (flute)
Jennifer Campbell (flute)
Ruth Clarke (keyboard)
Richard Gonski (keyboard)
Lona Kozik (piano)
Isabel Lambert (violin)
Rosanna Lambert (keyboard)
Africa Lambert (cello)
Mike McInerney (keyboard and shakuhachi)
Rachel Miller (flute)
Ruth Molins (flute and alto flute)
Lewis Riley (keyboard)
Jane Spiro (violin)
Rebecca Wilson (violin)
Ian Wellens (bass clarinet and baritone saxophone)
Tom Vigneri (keyboard)
Andy Williamson (tenor saxophone)