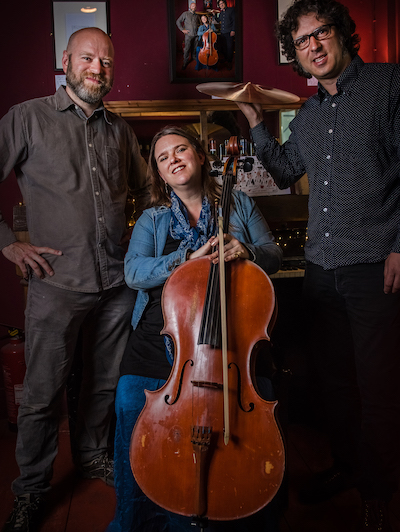 Date/Time
Monday 19 June 2023
7:30 pm - 10:00 pm
Categories Jazz
Book here now: £15 full price • £10 or £7 if you prefer – please pay what you can*
Shirley Smart, cello
John Crawford, piano
Demi Garcia Sabat, percussion
After studying under Raphael Wallfisch at the Guilldhall School of Music, and Janos Starker in Paris, Shirley Smart moved to Jerusalem, where she remained for 10 years, studying and performing a wide variety of musical traditions from the North Africa, Turkey and Middle East. She was also highly active on the jazz scene, working with artists including Avishai Cohen, Omer Avital and Yasmin Levy. Since returning to the UK, she has quickly become known as one of the most creative cellists on the music scene and has worked with many leading jazz and world music groups, including Antonio Forcione, Mulato Astatke, Gilad Atzmon, Neil Cowley, Julian Ferraretto, Robert Mitchell, Maya Youssef and Alice Zawadski.
In 2018 she release the  album Long Story Short on 33 Records. 
It  showcases her unique ability to explore the potential of the cello in a jazz context, performing multiple roles as bassist, lead and soloist on the instrument.
 Including 13 original tracks penned by Smart and showcasing the vast array of her musical influences– from jazz to Middle Eastern, North African, and South American traditions – Long Story Short is an exuberant and life-affirming expression of these various passions. Recorded in trio with Latin jazz master pianist John Crawford and multi-faceted percussionist and drummer Demi Garcia Sabat, the disc also features guest appearances by Nikki Iles (accordion), Nicolas Meier (guitar), and Orphy Robinson (vibraphone). In Long Story Short, Shirley Smart presents her trademark artistic approach, boldly mixing strong Middle Eastern and world music reminiscences, as well as clear references to more straightforward jazz and blues traditions.
Since Shirley returned to London, she quickly established herself as an extremely versatile musician and composer, performing all over the UK with artists and groups such as Issie Barrat's Interchange Dectet, Neil Cowley, Mulato Astatke, Robert Mitchell, Antonio Forcione, and Alice Zawadzki among others. She is also an active educator. She teaches Jazz and Improvisation at the Royal College of Music Junior Department and City University, and has also given workshops for Jazzlines, NYJC, and Trinity Laban.
"A superb set — a sound world that is at once rooted in the ancient and traditional musics that it draws from in an utterly contemporary manner that also incorporates modern jazz.
This is an exceptionally strong leadership debut from a lady that I'm sure we are destined to hear much more from." Jazzviews
"Long Story Short represents another impressive offering from Smart and is a worthy début under her own name.The album covers an impressive amount of musical and geographical ground with its range of styles and influences. Smart's playing, both with and without the bow, is exceptional throughout."
"…a stunning pizzicato solo, her playing reminiscent of a top jazz bassist. And she's pretty handy with the bow too!" The JazzMann
"As a cellist-composer she morphs seamlessly from Stephane Grappelli like swing and Bird-like bebop…a charming kaleidoscope and jazzy showcase of her global folk music-inspired compositions" Jazzwise
"Intense, lyrical and full of energy…A thrilling range on technique on display…Smart's cello singing, snarling or pumping out bass line
Fascinating listening, and thought-provoking entertainment for the open-eared" The Arts Desk
"…some of the most inventive use of the cello I have heard for some time" Kind of Jazz
"Smarts playing is particularly remarkable..she readily demonstrates a wide range of techniques incorporating an understanding of improvisation drawn from a jazz background and her extensive knowledge of Arabic maqam" Songlines
"A fascinating melting pot of musical influences" World Music Central
London Jazz News Interview  with Shirley Smart
Live Video, Kings Place, London
* See Access, Tickets & Finding Us for more about why there are three ticket prices, plus other useful info about coming to events at Ashburton Arts Centre.