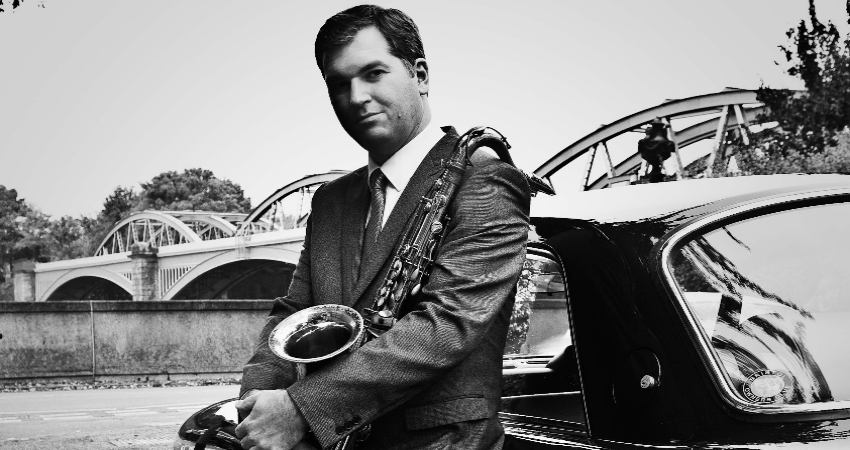 Date/Time
Sunday 19 September 2021
7:30 pm - 9:30 pm
Categories Jazz
Sadly this concert has been cancelled.
However Simon is playing at the Blue Vanguard club in Exeter on Thursday 23 September: more here. That's with the regular Blue Vanguard trio of Craig Milverton (piano), Al Swainger (bass) and Coach York (drums).
Simon is playing with the Ronnie Jones trio  at Broadhempston Village Hall, just a few miles from Ashburton, on Friday 24 September, 7.30pm, Tickets £12. You can book using this form on the hall's website, or by texting your needs to 07970 596571.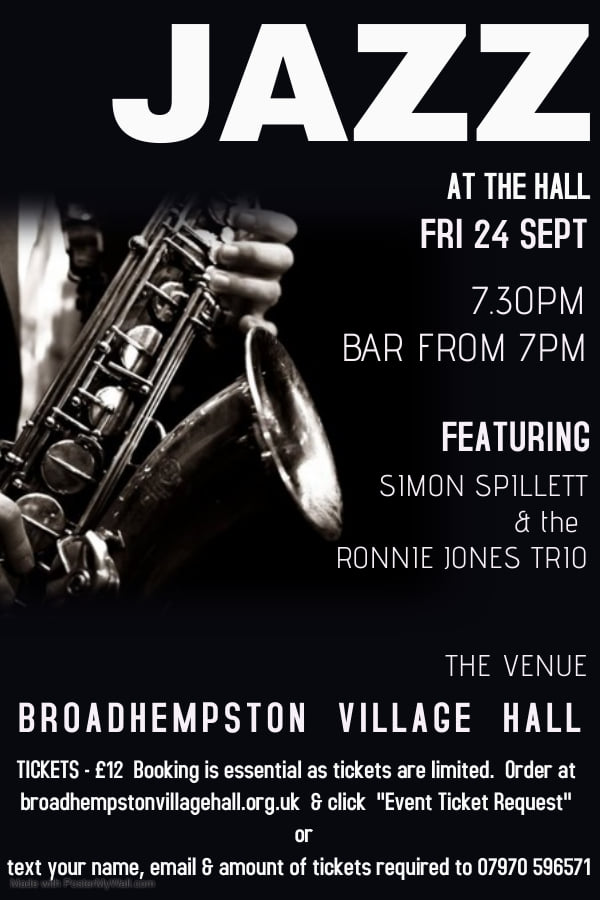 ===
"Straight-ahead, high energy jazz is his line and he does it with aplomb" – The Guardian
Ronnie Jones – drums
Jim Rintoul – double bass
Joss Kidd – guitar
Described by the late Humphrey Lyttelton as "formidable," Simon Spillett is among the very top flight of current British jazz saxophonists. He has won several awards for his music, including the tenor saxophone category of the British Jazz Awards (2011), Jazz Journal magazine's Critic's Choice CD of the Year (2009) Rising Star in the BBC Jazz Awards (2007) and most recently the Services to British Jazz in the 2016 British Jazz Awards. Other celebrated jazz leaders and bands with whom he has worked have included Sir John Dankworth, Stan Tracey, Peter King and The Ronnie Scott's Jazz Orchestra. He has recorded three albums, Introducing Simon Spillett (Woodville Records, 2007), Sienna Red (Woodville Records, 2008) and Square One (Gearbox Records, 2013), all of which have received highly favourable reviews in both the specialist and national press. His festival, concert and club appearances across the UK have included sold-out gigs at Ronnie Scott's and the Brecon Jazz Festival and he has broadcast on BBC Radio 3's Jazz-Line Up with his own band.
In 2016, Simon was appointed to the board of patrons of The Jazz Centre UK, alongside Sir Michael Parkinson, Dame Cleo Laine, Jools Holland and Van Morrison.
Pandemic policies. This information will be updated as things change.
Update: April 2022
Face masks: In the Main Hall, on the ground floor, these are recommended at all times, but are optional. Anyone who sits upstairs in the balcony MUST wear a face mask – with NO exceptions (not even those who are exempt). This is to allow people who are clinically vulnerable to have a place to sit where seats are naturally separated, so: (a) to provide a place for people who want to be as distanced as possible from others, and with anyone nearby wearing a mask; (b) as virus particles when airborne are generally heavier than air, this helps to mitigate the risk of transmission from people sitting in the balcony to audience members below.
The windows and doors of the venue will be open, allowing fresh air to be constantly moving through. Although we have heating, this might mean that the ambient temperature is a little cooler than some might like, and audience members should dress accordingly.
Please, if you can, take a Lateral Flow test before coming to the Arts Centre, and if this is positive, don't come. These tests aim to pick up anyone who is infectious at the moment of testing, so please take the test as late as possible on the same day before coming to the Arts Centre. If you test positive, a refund or transfer of your ticket to another event can be arranged, if you let us know before the start of the event, by emailing boxoffice@ashburtonarts.org.uk.