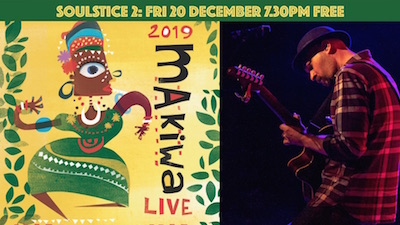 Date/Time
Friday 20 December 2019 - Saturday 21 December 2019
7:30 pm - 1:00 am
Categories Music
Free admission before 10pm! £5 after. Donation buckets will be shaken.  Featuring:

GOZER GOODSPEED AND THE NEON GAMBLERS
DJs: HECTOR ZIRONI and CITRUS THIEF

Gozer Goodspeed & the Neon Gamblers
Gozer Goodspeed – Vocals and guitar
Bill Birks – bass
Gozer is a Plymouth-born indie-folk singer/songwriter who has been described as "a riotous rabble-rouser" (by music blogger Listen With Monger) and "a true natural musician" (by Jonathan L, International Radio Personality Of The Year 2017). To date Gozer has played over 700 live shows. Likes: caffeine, hats, and guitar strings that don't break easily.
In which Ashburton's legendary Bill Birks makes his first appearance on the Arts Centre stage.
Makiwa
Makiwa is a Devon-based 7-piece band whose music is an energising and uplifting blend of African and reggae music. Strong melodies and up-tempo rhythms are guaranteed to get you dancing and singing along! Veterans of Glastonbury and Womad, the musicians of Makiwa bring a wealth of experience to their performance. More about Makiwa here on Facebook .

Wendy Herman – vocals
Larry J – bass guitar
Nils White – keyboards
Mark Griffiths – drums
Phil Rossiter – guitar
Rachel Strange – sax
Daffy – harmonica and vocals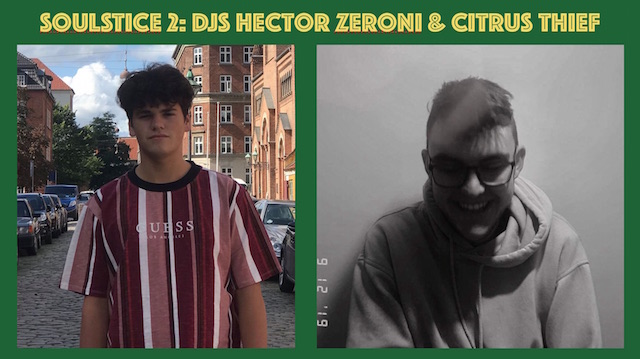 Hector Zeroni (left): Benedict Quinn is a Jazz Guitarist studying at the Royal Academy of Music. Under the alias 'Hector Zeroni' he produces and DJs a mixture of Disco, House, Deep House, Afro House, Garage and Jungle.
Citrus Thief (right):
Loving dance music of all sorts has driven Citrus Friend to begin his DJ career. He mainly performs in the Bournemouth clubbing scene whilst studying at the university there. He has a strong passion for getting people up and on their feet moving to the music with strong disco rhythms and breakbeat bangers.