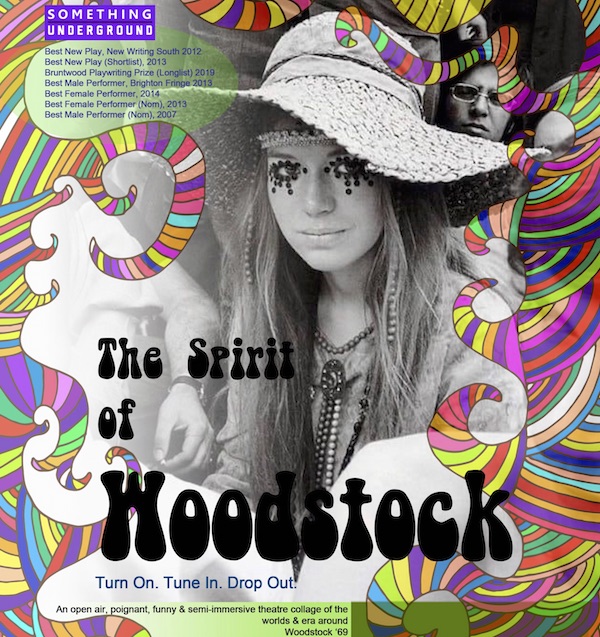 Date/Time
Saturday 21 August 2021
7:00 pm - 9:30 pm
Categories Performances, shows, and events
Saturday 21st at 7pm and Sunday 22nd at 3pm.
Gates open an hour earlier – bring a picnic.
How is it possible to attend, here in Ashburton, the world's largest festival, with over 500,000 people all together on a northern New York State dairy farm? How is it possible to be on the beach opposite the Kennedy Space Centre watching the launch of Apollo 11; to be part of an anti-Vietnam war riot; to be a chopper pilot ferrying the world's most famous musicians upstate; to be the captain of a Russian nuclear submarine off Cuba's coast; to be a musician stepping out onto the stage at Woodstock?
Simple. The latest open air stage show from multi-award-winning Something Underground Theatre, The Spirit of Woodstock. Over two wild and immersive hours, it's a thought-provoking, poignant, dynamic, and semi-immersive theatre collage of the worlds and era that surrounded the "Mother of Free Festivals" inspired by the ethos of the hippie, counterculture, and free-festival movements.
The politics, the conflicts, the music, the protests, the moon landings, the civil-rights movement, the adverts, the drugs, the music, the musicians and the personalities, all imbued with the soundscape of this incredible era. Come and enjoy with your picnics, wrapped up in tie dye, ready to be taken back to a time that was happening, golden and groovy, baby.
This will happen in a beautiful field, about 10-15 minutes walk from the Arts Centre, with stunning views. The perfect location to relive the summer of '69. Instructions will be emailed when you buy your tickets.

"The best feelgood, dance along, piece of theatre I've ever seen. Really brought everyone together. Highlight of my festival"  Sally Edwards.
"Among the festival highlights were watching Jonathan Brown's one man play about Woodstock. If you get a chance to see this, do it!" Adam Wilder
"This was my festival highlight – utterly brilliant piece of work – and hope many many get to see it. Thank you!!!" Bianca Gavin
"Proper loved your show today. My Dad was at Woodstock. Brought back a whole lot of memories for him, you did it brilliantly. Thank you. We loved it. Mum and Dad raved about your performance all weekend. Absolute respect for what you're doing, thank you" Emily Westlake.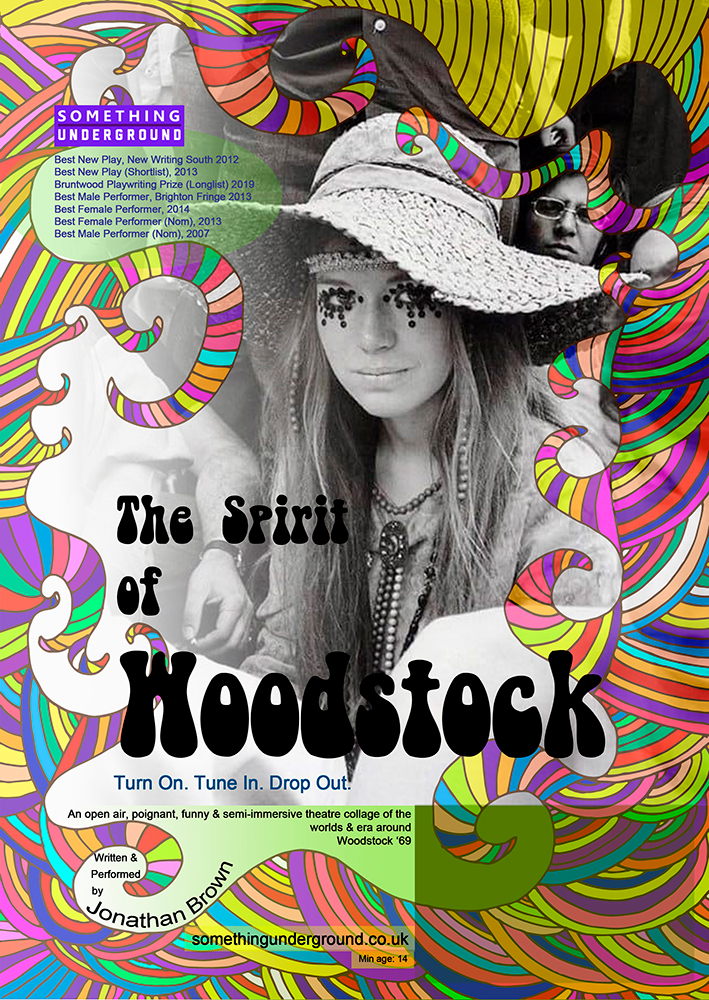 Press Quotes
• "…a massive theatrical achievement…deserves some kind of award!" Brighton Source 2020
• "…. writer Jonathan Brown knows how to drive a plot…"Lyn Gardner, The Guardian
Accolades for Something Underground
• Best New Play Award, New Writing South 2012 (The Last Lunch).
• Best New Play Award (Shortlist), New Writing South 2013 (The Silent Stream)
• Bruntwood Prize (Longlisting) 2019 (How to Start a Knife Gang)..
• Best Male Performer, Brighton Fringe 2013 (Jonathan Brown for The Silent Stream)
• Best Female Performer, Brighton Fringe 2014 (K Goodfellow, Smoking Ban)
• Best Female Performer (Nom), Brighton Fringe 2013 (Rachel Guershon for Betsy: Wisdom of a Brighton Whore)
• Best Male Performer (Nom), Brighton Fringe 2007 (Jonathan Brown for Large Print Trash)
• Amnesty International Award for Outstanding Performance in the category of contribution to Human Rights Awareness (Longlisting) 2014. (Smoking Ban with Kate Goodfellow)
MORE HERE: http://www.somethingunderground.co.uk/accolades/
Pandemic policies. This information will be updated as things change.
Update: April 2022
Face masks: In the Main Hall, on the ground floor, these are recommended at all times, but are optional. Anyone who sits upstairs in the balcony MUST wear a face mask – with NO exceptions (not even those who are exempt). This is to allow people who are clinically vulnerable to have a place to sit where seats are naturally separated, so: (a) to provide a place for people who want to be as distanced as possible from others, and with anyone nearby wearing a mask; (b) as virus particles when airborne are generally heavier than air, this helps to mitigate the risk of transmission from people sitting in the balcony to audience members below.
The windows and doors of the venue will be open, allowing fresh air to be constantly moving through. Although we have heating, this might mean that the ambient temperature is a little cooler than some might like, and audience members should dress accordingly.
Please, if you can, take a Lateral Flow test before coming to the Arts Centre, and if this is positive, don't come. These tests aim to pick up anyone who is infectious at the moment of testing, so please take the test as late as possible on the same day before coming to the Arts Centre. If you test positive, a refund or transfer of your ticket to another event can be arranged, if you let us know before the start of the event, by emailing boxoffice@ashburtonarts.org.uk.