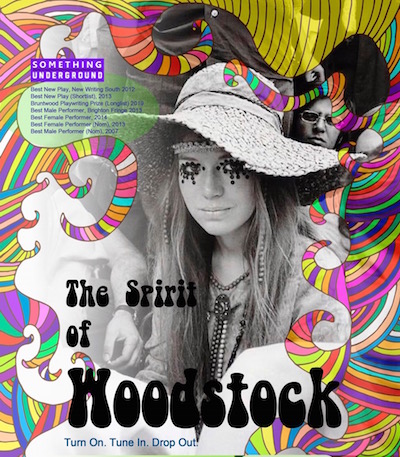 Date/Time
Saturday 27 August 2022
3:00 pm - 5:00 pm
Categories Performances, shows, and events
This is the first of 2 shows from Something Underground on the 27th August:
Spirit of Woodstock 3pm (as performed here in 2021 – an amazing show!)
and the sequel:
Children of the Revolution 7pm (takes us into the 1970s
Book here now: £14 full price • £10 or £7 if you prefer for either show –
Or make an event of it! Bring a picnic – see BOTH shows for £24 full price • £18 or £12 if you need it cheaper. Please pay what you can.
Spirit of Woodstock
How is it possible to attend, here in Ashburton, the world's largest festival, with over 500,000 all together on a Northern NY State dairy farm, in 1969?
How is it possible to be on the beach opposite the Kennedy Space Centre watching the launch of Apollo 11; be part of an anti-Vietnam war riot; be a chopper pilot ferrying the world's most famous musicians upstate; be the captain of a Russian nuclear submarine off Cuba's coast; to be a musician stepping out onto the stage at Woodstock? Simple.
Award-winning Something Underground Theatre brings you The Spirit of Woodstock.
Over two wild and immersive hours. The politics, the conflicts, the music, the protests, the moon landings, the civil-rights movement, the adverts, the drugs, the music, the musicians and the personalities, all imbued with the soundscape of this incredible era. Come and enjoy with your picnics, wrapped up in tie dye, ready to be taken back to a time that was happening, golden and groovy, baby.
Bring a picnic. Bar available. There'll be chairs, but feel free to bring your own. Bring a torch as it'll be dark for the return journey after the second show.
The venue is a beautiful field overlooking Ashburton – it's a beautiful place, with great views. Directions below. It's a 10 – 20 minute walk depending on your stomping speed, uphill, from Ashburton Arts Centre. There is  parking available if you prefer to drive (it's up a very steep hill, and over a field – please walk up if you can).
Walking directions: walk along West St away from the town centre, then bear right up Bowden Hill from West St. After it becomes a dirt track, turn right at the top of the hill, and then follow the path past several gates, until there's a very obvious one into the field where the performance is happening. There should be signs along the way.
Driving directions: From Pear Tree (Shell garage at the Plymouth end of Ashburton) take Princetown Road. Take Right fork after half mile, follow Green sign towards Lavender House. After half mile-ish where the road makes a sharp left hand turn, turn right into an unmarked track – there is a board there saying "Arts Centre Field". Then left around bend – with care – big ruts – then turn Right – another board. After closing gate, up steep hill, left at the top, through the middle gate and follow the track across the field and you're there.