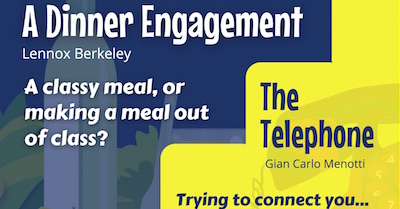 Date/Time
Saturday 24 September 2022
7:30 pm - 10:00 pm
Categories Classical
Book here now: £20 full price • £16 or £8 if you need a cheaper or child's ticket*
In February 2020, Staircase Opera did a superb production of Menotti's 'The Consul' here at the Arts Centre. We're delighted to welcome the company back to perform 2 fabulous short 20th century operas in this double bill. Another by Menotti, plus one from English composer Sir Lennox Berkeley.
In 1947 Gian-Carlo Menotti wrote The Telephone – a comic opera about how obsessive reliance on the telephone could get in the way of noticing what is happening in front of our eyes. 75 years later, sit on any train, in any bar, walk any street and what do you see?
Not so much Upstairs Downstairs but more like Front Door Back Door
A Dinner Engagement, pokes fun at the difference between class and being classy. Set in the kitchen of an impoverished English aristocratic couple, who plan to marry their daughter into European nobility, a meal is being prepared to impress.
But who will dress for dinner? Who is going to cook it? And Who is going to pay for the ingredients?
A comedy of mistaken identity and mistaken doors by Sir Lennox Berkeley, one of England's most influential composers and musical figures of the twentieth century.
Lennox Berkeley Biography (from Wikipedia)
Berkeley was born on 12 May 1903 in Oxford. He studied French at Merton College, Oxford, graduating with a fourth class degree in 1926. He became an honorary fellow of Merton College in 1974.
In 1927, he went to Paris to study music with Nadia Boulanger, and there became acquainted with Francis Poulenc, Igor Stravinsky, Darius Milhaud, Arthur Honegger and Albert Roussel. Berkeley also studied with Maurice Ravel, often cited as a key influence in Berkeley's technical development as a composer.
In 1936 he met Benjamin Britten, also a former pupil of Gresham's School, at the ISCM Festival in Barcelona. Berkeley fell in love with Britten, who appears to have been wary of entering a relationship, writing in his diary, "we have come to an agreement on that subject." Nevertheless, the two composers shared a house for a year, living in the Old Mill at Snape, Suffolk, which Britten had acquired in July 1937. They subsequently enjoyed a long friendship and artistic association, collaborating on a number of works; these included the suite of Catalan dances titled Mont Juic, and Variations on an Elizabethan Theme (the latter also with four other composers).
He worked for the BBC during the Second World War, where he met his future wife, Elizabeth Freda Bernstein (1923-2016) whom he married on 14 December 1946. Together they had three sons; their eldest son Michael Berkeley, Baron Berkeley of Knighton, is also a composer, and their youngest son is the photographer Nick Berkeley.
He was Professor of Composition in the Royal Academy of Music from 1946 to 1968. His students included Richard Rodney Bennett, David Bedford, Richard Stoker, Clive Strutt, John Tavener and Brian Ferneyhough. Ferneyhough felt that he learned nothing from Berkeley because of the gap between their musical conceptions, remembering him as "a notably urbane and well-meaning presence" whose "Nadia Boulanger-influenced gallic aesthetics were completely unable to deal with my compositional needs."
1954 saw the premiere of his first opera, Nelson, at Sadler's Wells. He was knighted in 1974 and from 1977–83 was President of the Cheltenham Festival. He lived in London, from 1947 until his death in 1989. On 20 March 1990 a memorial service was held for him at Westminster Cathedral, London.
* See Access, Tickets & Finding Us for more about why there are three ticket prices, plus other useful info about coming to events at Ashburton Arts Centre.