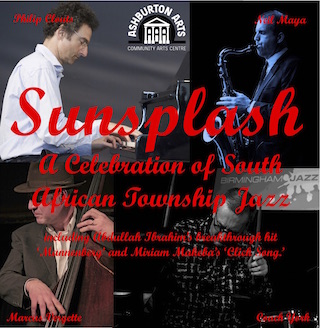 Date/Time
Wednesday 16 October 2019
7:30 pm - 10:00 pm
Categories Jazz
£10/£8/£5 Book Now – Pay what you can afford, or what it's worth to you!
Lively music from recently formed quartet 'Sunsplash'. Pianist Philip Clouts has assembled a set which features music from the greats of South Africa including Abdullah Ibrahim's breakthrough hit 'Mannenberg', Miriam Makeba's 'Click Song' and tunes by Dudu Pukwana and Hugh Masakela.
The band features saxophonist Neil Maya, who was praised by the Teignmouth Jazz Festival for his "electrifying performance with crisp melody lines and improvisation," plus Marcus Vergette on bass and Coach York on drums.
Philip Clouts was born in Cape Town and has loved South African jazz from childhood. The music has influenced his own playing and composing in worldbeat jazz group Zubop and more recently in the Philip Clouts Quartet. "It's a great pleasure to re-visit some of my original sources of inspiration in this band" says Clouts. "We play pieces that connect directly to the audience, very melodic and with catchy rhythms"
£10/£8/£5 All the same unreserved seats. Pay what you can afford, or what it's worth to you! Available in advance from Rafikis Cafe, Ashburton Information Centre or online.
Doors and Bar open at 7pm. Music starts approx 7.30pm.