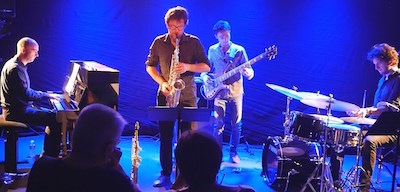 Date/Time
Tuesday 22 October 2019
7:30 pm - 10:00 pm
Categories Jazz
Gregory Sallet – saxophone
Tin Džaferović – double bass
This band came to the Arts Centre on two days notice last year as another gig on their tour was cancelled. They were amazingly good. See this ecstatic review from one of the audience:
"My ears are full and my heart — well it's like a bruise on my heart that I want to keep pressing because it feels so good." Full review here.

The Sur Ecoute quartet is a remarkable jazz group from the Lyon collective Pince-Oreilles. Their name alludes to phone-tapping and was also the French title for the US TV series 'The Wire'. Sur Ecoute inhabits the mainstream of contemporary jazz and their repertoire consists almost entirely of originals by members of the band. Their compositions are usually tightly-structured yet make adequate space for improvisations, both individual and collective.
The band is fronted by saxophonist Greg Sallet and completed by pianist Matthieu Roffe, bassist, Croatian Tin Džaferović (using a 5-string fretted electric bass) and drummer Kevin Lucchetti. After tours in Latin America and the United Kingdom the Sur Ecoute quartet have recently released their first album, "Muss Es Sein? Es muss Sein!"
Tickets £13 or £10 or £6 – pay what you can, or what it's worth to you. Doors and bar open at 7pm. Music starts around 7.30pm.