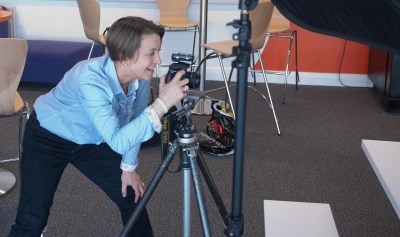 Date/Time
Thursday 26 September 2019
7:30 pm - 9:30 pm
Categories Talk
£10 (includes soup and a roll) Book Now
Anita Corbin comes to Ashburton Arts Centre to talk about her photography and her life, to kick off the autumn/winter series of talks on the last Thursday of each month.
She's behind this exhibition, currently touring the UK:  1stwomenuk.co.uk featuring 
one hundred striking images of modern Britons capturing the pioneering spirit – yet also the nature of the individual woman.
These powerful portraits of UK Women by renowned British photographer Anita Corbin, provoke inquiry providing inspiration and insight. Taken over a period of 10 years, the 100 portraits reflect women pioneers from all walks of life from beat-boxing to bomb detection, computing to cricket! Come along and hear her talk about them.
This visually arresting and immersive lecture features images of celebrities, famous personalities and unsung heroines from across the decades – ranging from Seventies rocker Suzi Quatro to Olympian Boxer, Nicola Adams, newscaster and Morecambe and Wise star-turn, Angela Rippon to writer and comedienne, Jenny Éclair. Through to 'ordinary women' doing extraordinary jobs and achieving firsts in their fields, such as Brigadier Sharon Nesmith, the first woman commander of a brigade of 5000 front line troops, Baroness Patricia Scotland, First Woman Attorney General and Megan Knowles-Bacon, First Woman to be made an officer of the Magic Circle.
£10 – includes soup and a roll.