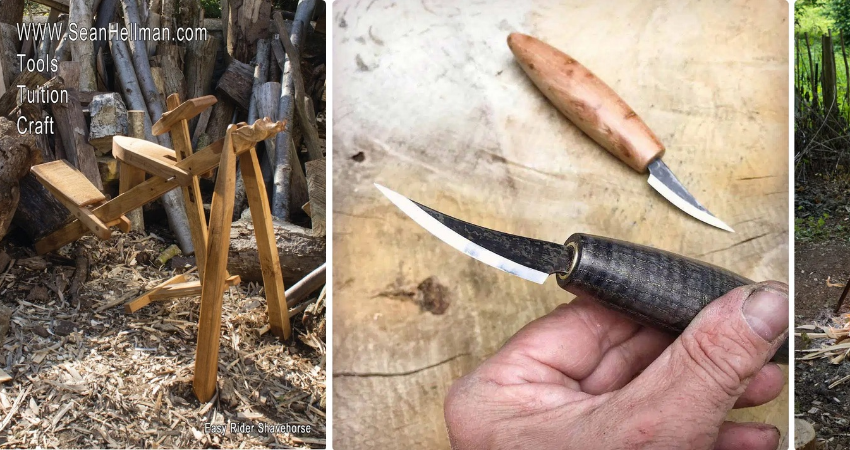 Date/Time
Thursday 25 November 2021
7:30 pm - 9:30 pm
Categories Performances, shows, and events
Craftsman Sean Hellman is renowned widely for his skills in green woodwork. He runs an artisan-led production business, on the edge of Dartmoor, Devon, UK.
Working in local and sustainable wood, Sean Hellman produces beautiful and practical items for indoor and outdoor use; as well as working in collaboration with others, to produce a range of edge-tools, and tool-sharpening kits for woodworkers and other craftspeople.
Sean also runs classes for adult learners, teaching all levels of edge-tool sharpening, as well as woodwork, and green woodwork. He also works in schools and with community groups.
With his wife Lucy Lepchani, Sean also runs Crafty Little Press, publishing several titles including the alleged classic: Shaving Horses Lap Shaves and Other Woodland Vices; and most recently, the comprehensive book on edge-tool sharpening, Sharp.
Pandemic policies. This information will be updated as things change.
Update: April 2022
Face masks: In the Main Hall, on the ground floor, these are recommended at all times, but are optional. Anyone who sits upstairs in the balcony MUST wear a face mask – with NO exceptions (not even those who are exempt). This is to allow people who are clinically vulnerable to have a place to sit where seats are naturally separated, so: (a) to provide a place for people who want to be as distanced as possible from others, and with anyone nearby wearing a mask; (b) as virus particles when airborne are generally heavier than air, this helps to mitigate the risk of transmission from people sitting in the balcony to audience members below.
The windows and doors of the venue will be open, allowing fresh air to be constantly moving through. Although we have heating, this might mean that the ambient temperature is a little cooler than some might like, and audience members should dress accordingly.
Please, if you can, take a Lateral Flow test before coming to the Arts Centre, and if this is positive, don't come. These tests aim to pick up anyone who is infectious at the moment of testing, so please take the test as late as possible on the same day before coming to the Arts Centre. If you test positive, a refund or transfer of your ticket to another event can be arranged, if you let us know before the start of the event, by emailing boxoffice@ashburtonarts.org.uk.