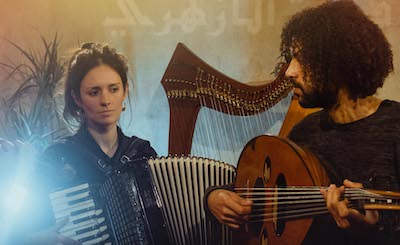 Date/Time
Thursday 7 September 2023
7:30 pm - 10:00 pm
Categories Folk
Book here now: £15 full price • £10 or £7 if you prefer – please pay what you can*
Tamsin Elliott has performed here in Ashburton in 2022 with her band Solana to a packed house, and later that year with her Trio. Each of these have been fabulous shows, and this collaboration with Egyptian musician Tarek Elazhary looks like being something very special, as you can see from the video links below.
Tamsin Elliott, Tarek Elazhary & Salma Amr: Gathering, Parting (When Bright Shines the Moon):
Coyi d'un Artu una Flor:
There is a rich thread of collaboration throughout, one which both celebrates and highlights the coming together of cultures and music?dreamlike and mesmerising" Folk Radio UK
Tamsin is a multi-instrumentalist, composer and film-maker based in Bristol, UK. With roots in the folk music of the British Isles, her interests and playing styles extend to European and Middle Eastern musics as well as experimental and ambient sounds. Her critically acclaimed debut solo album FREY, which features the playing of Sid Goldsmith and Rowan Rheingans, is out now on Penny Fiddle Records.
Egyptian educator and composer Tarek Elazhary seeks to preserve the musical heritage of the Middle East, while exploring its place within a contemporary context. He is the co-founder of instrumental band Dokkan, which blends eastern influences with contemporary western instrumentation.
Exploring the parallels and celebrating the idiosyncrasies of both Egyptian and English folk traditions, Elliott and Elazhary aim to find commonality, foster cross-cultural connection and help to heal the scars of a colonial past through meaningful and conscious collaboration.
A dialogue born of mutual respect and friendship forms the basis of a project that centres around the blend of instruments from disparate traditions – lever harp, accordion, whistles and Arabic oud – who speak with the same voice, the voice of a future-facing new generation wishing to build something new and authentic together.
"Outstanding compositional and instrumental prowess." RnR
"Tamsin Elliott is an extraordinary multi-instrumentalist" **** TradFolk
Tamsin Elliott and Tarek Elazhary are grateful for the support of EFDSS's Alan James Creative Bursary in facilitating this collaboration.
* See Access, Tickets & Finding Us for more about why there are three ticket prices, plus other useful info about coming to events at Ashburton Arts Centre.