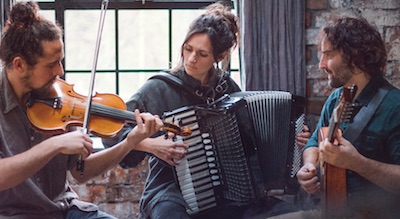 Date/Time
Thursday 16 June 2022
7:30 pm - 10:00 pm
Categories Folk
Book here now  – £14 full price • £10 or £7 if you prefer*
Tamsin Elliott (accordion, voice)
Sid Goldsmith (cittern, voice)
Rowan Elliott (viola, fiddle, voice, effects)
Tamsin was recently at the Arts Centre for a packed performance with her band Solana. It was a superb night, and this material with a trio, looks like being every bit as wonderful, with a very different mood.
This gig is part of a tour to launch Tamsin's new solo album, Frey (listen to three of the tracks here on Bandcamp).  She writes, "the album comprises compositions for accordion, harp, whistle and voice, creating a mesmerising conjunction of sonic textures. Written during a period of rest and uncertainty, she began to create music and sounds that reflected her need for sanctuary, and provided an outlet to process grief.  Frey inhabits a soundworld true to English folk roots, with modal and rhythmic echoes of time spent in Egypt, and moments of experimentalism using effects, drones and field recordings. With a magnetic sense of tension and release, the collection imbues a sense of spaciousness, and ultimately communicates a strong message of hope and healing through art and connection."
"There is a rich thread of collaboration throughout [Tamsin's work], one which both celebrates and highlights the coming together of cultures and music…The results are always refreshingly inventive and exciting"
 Folk Radio UK
"Tamsin's accordion recreates the thrill of the casbah … [her] flute and whistle take us on spellbinding, almost mystical, journeys which soar with unexpected twists and turns"  Outline Magazine
* See Access, Tickets & Finding Us for more about why there are three ticket prices, plus other useful info about coming to events at Ashburton Arts Centre.