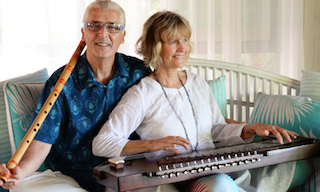 Date/Time
Sunday 1 December 2019
2:30 pm - 4:30 pm
Categories Music
Tickets: £15 or £11 or £8 — you choose! (All the same unreserved seats), Under 12s free. 
Join Terry Oldfield and his wife Soraya Saraswati as they share their magical flute music with songs and mantras for peace.  Joined by Elise Yuill Cohen a Devon based singer/songwriter, yoga and pilates teacher.
Terry Oldfield & Soraya Saraswati are talented musicians sharing their love globally together through

m

usic,

m

editation and

m

indfulness,

c

oncerts and

r

etreats. Terry moved to Australia in 2001 where he attended Soraya's classes and teachings.  Terry also joined a chanting group with Soraya and from here was born a shared love of world music and mantra. Now based in Australia, Terry and Soraya travel extensively sharing their wisdom and warmth through musical performances taking audiences on an unforgettable journey into the heart.

Terry Oldfield is a world-renowned musician best known for his unique style of flute playing. He has been nominated for a British Academy award and two Emmy awards during his career and has composed music for over 80 Film and Television productions, receiving two Emmy nominations for "Land of the Tiger" and "Twilight of the Dreamtime" and also a British Academy Award nomination as composer for the BBC series "Kingdom of the Ice Bear".

Terry's career began when he was asked by the BBC to compose music for a series called "Great Railway Journeys of the World". He also worked on Meerkats United, which was voted 'Best Wildlife Film Ever' in a National Television Poll.

In the early 1970s, Terry and his brother Mike formed a band called 'Barefoot' playing rock'n'roll at colleges and clubs throughout the UK and Europe. Mike later went on to record the highly successful "Tubular Bells" and Terry played the flute at the first live performance at Queen Elizabeth Hall, London. His earliest musical experiences were in the myriad of folk clubs that sprang up in the UK during the late 1960s and early 1970s, listening to the likes of Leonard Cohen, Bert Jansch, John Renbourn, and Bob Dylan. Terry left school at 16 to travel the world and worked as a roadie for various bands including "The Byrds".

During an extended stay on the Greek Island of Hydra, he bought a silver flute from a fellow traveler and fell in love with the instrument. "I think it was learning to play in this way, with no formal guidance, that allowed me to develop the ability to compose music. I spent many happy days improvising tunes and discovering scales and arpeggios for myself and soon started to teach myself to write these things down". Terry also appears on his brother Mike's albums "Hergest Ridge" (flute), "Ommadawn" (pan pipes) and extensively on "Incantations" (flute)

With over 3 million record sales to date, the magic of Terry's music continues to touch and inspire audiences worldwide.
For more information please visit
terryoldfield.com
  and 
youtube.com/user/terryoldfield1/videos
Elise Yuill Cohen
Elise is a singer-songwriter and recording artist inspired by global traditions of sacred sound, devotional, world and folk music. Guided by her love and dedication to the healing spirit of music Elise's musical creativity includes composing devotional songs, mantra, meditation and kirtan music, as well as contemporary folk-songs.
Elise is also a yoga teacher (500hr), advanced STOTT Pilates Instructor, a trained Life Coach and has over 13 years of teaching experience with a background in professional dance and performing arts.She holds weekly yoga and pilates classes, fortnightly and monthly kirtan and yoga events, and retreats in her home county of Devon. As well as offering a variety of singing and yoga workshops, sacred and folk music concerts, and kirtan gatherings on regular tour date and festivals circuits of the UK and abroad.