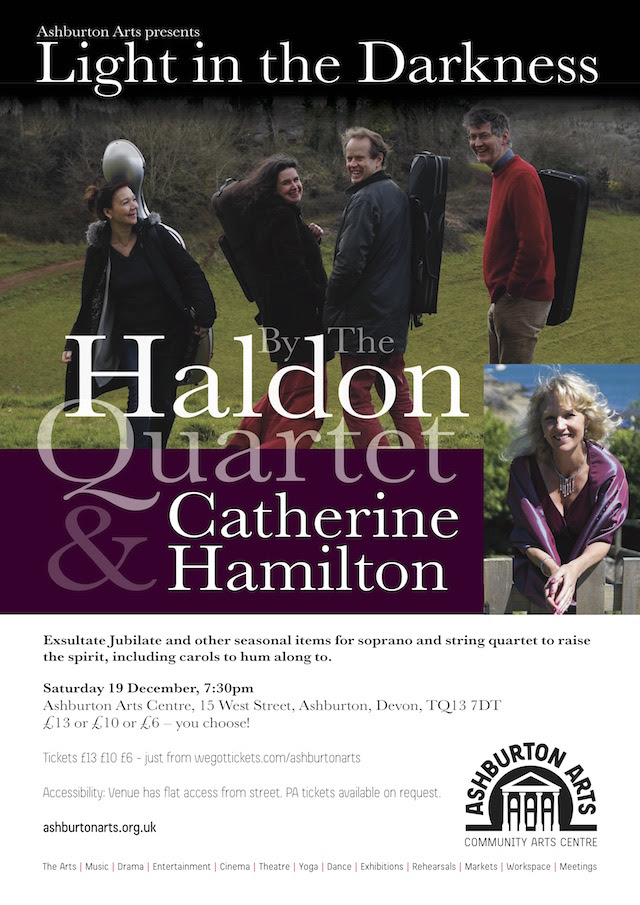 Date/Time
Saturday 19 December 2020
7:30 pm - 9:00 pm
Categories Classical
Seasonal music to raise the spirit – Mozart's Exsultate Jubilate, Corelli Christmas Concerto and others including some carols to hum along to.
Soprano Catherine Hamilton joins the Haldon Quartet:
Lindsay Braga & Steve Banks: violins
Andrew Gillett: viola
Rebecca Allnatt: cello
We have a small number of tickets available for those who can join us in person and a large number of tickets for anyone who would like to join us live on Zoom or YouTube.
Ticket prices are £6, £10 or £13. Please pay what you can and thank you for supporting local musicians.
See WeGotTickets.com/ashburtonarts for tickets in person.
Please email boxoffice@ashburtonarts.org.uk in order to receive the info for live streaming.
More about Catherine Hamilton: catherinehamilton.org.uk/reviews
More about the Haldon Quartet: haldonquartet.co.uk
Full programme (in no particular order):
Corelli: Christmas Concerto
Mozart: Exsultate Jubilate
Handel: Rejoice Greatly (Messiah)
Mendelssohn: op13 Intermezzo
Vivaldi: Domine Deus Rex Coelestis
Warlock: Bethlehem Down
plus
The Little Road to Bethlehem (M. Head)
In the Bleak Midwinter
Silent Night