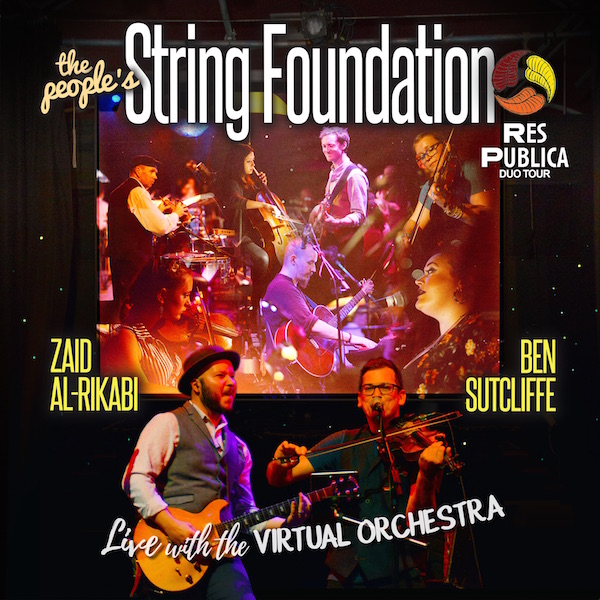 Date/Time
Thursday 1 August 2019
7:30 pm - 9:30 pm
"Res Publica" is a brand new musical touring show from acclaimed South West band The People's String Foundation, (virtuoso violinist Ben Sutcliffe and co founder and composer Zaid Al-Rikabi). During this piece the band packs a 32 piece Gypsy Orchestra into a suitcase and takes them on tour inviting the audience on an incredible journey of discovery.
Using music, puppetry, art, cinematography and animation all set to the backdrop of a "Virtual Orchestra," (recorded at The Hall for Cornwall, in 2018) "Res Publica" is a unique project that combines many art forms to create an immersive and exhilarating show.
The second half of the show offers the audience the chance to hear The People's String Foundation's most popular songs and compositions from their time working as musical directors for companies such as Kneehigh and Rogue Theatre and The Minack.
"Oneofthe great wonders of the West- Stonking, earthy, organic, delicate & barn-storming."
Charles Hazlewood, conductor & composer
"The vocal performances are remarkable and the orchestrations are inventive, exploratory and beautifully performed."  Ralph McTell
"The People's String Foundation takes you by surprise – you think, 'fun-loving guys filled witha sense of joie-de-vivre!' But very quickly you realise they're much more than that – they are highly skilled musicians who combine virtuosity with a passion for a genuine shared event…rare!"  Mike Shepherd,  Artistic Director, Kneehigh
This show is a multi-media theatrical concert backed by recorded footage of The People's String Foundation Orchestra. We play the key musical parts live over the top of an audio and visual recording of a sellout concert at The Hall for Cornwall playing our newest album "Res Publica" live.
The story they tell is one of a solitary soul, a marionette puppet, searching through these turbulent times searching for meaning. A way to belong. Twinned with the lead musician's violin and edited to slip seamlessly in and out of the orchestral footage, the puppet's journey takes the audience on an emotional and intriguing journey. Created by a talented team of film and theatre professionals, the visual and lighting elements of the show are both inventive and unique. These elements combine with beautiful original and arranged music to create an unforgettable experience.
Suitable for all ages 7+
Directed by Simon Harvey, associate director and director of KNEEHIGH and O-Region
Ben Sutcliffe – Violin & Vocal
Zaid Al-Rikabi – Guitar and Vocal
The Virtual Orchestra:
Harry Harding – Drums & Vocal
Lukas Drinkwater – Double Bass
Collin Seddon – Percussion
Ross Hamilton – Timpani and Percussion
Molly Banks – Backing Vocal
Jenny Tripp – Backing Vocal
Emily Faulkner – Backing Vocal
Claire Tomlinson – Trio Violin
Jen Dyer – Trio Viola
Kath Williams – Trio Cello
Ian Raymer – Violin 1
Alyssa Lynch – Violin 1
Nat Jones – Violin 1
Lucy Jenkins – Violin 2
Annie Bayliss-Gray Violin 2
Elowen Waters – Violin 2
Chris Bennets – Viola
Jake Montgomery-Smith – Viola
Danny Jones – Cello
Cat Evans – Cello
Kate Riaz – Cello
Beth Al-Rikabi – Bassoon
Bethan Newal – Saxophone & Clarinet
Rich Hume – Baritone Sax
Martin Skews – Piano, Flute, Guitar
£13 or £10 or £6 — you choose! (All the same unreserved seats)
Tickets in advance from wegottickets.com or in person from Rafikis (next door to the Arts Centre), Ashburton Information Centre and on the door.  Or to reserve tickets, email boxoffice@ashburtonarts.org.uk or leave a message on 01364 652781
Doors and bar open at 7pm
Accessibility: Venue has flat access from street. PA tickets available on request.
Wheelchair users, please get in touch with the box office in advance if possible.
"One of the best small UK music venues" The Guardian