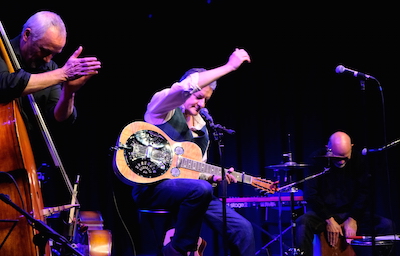 Date/Time
Friday 1 November 2019
7:30 pm - 10:30 pm
Categories Jazz
£13 or £10 or £6 – pay what you can, or what it's worth to you. Book here now
These two guys played support to Ma Bessie and her Blues Troupe that came to Ashburton last November, and they played a cracking set. We're delighted to welcome them back for a full show of their own.
"A very talented duo performing blues music at its finest" Suezanne of Cosmic Xposure
The Rag & Moan Men say, "What more is there to say – we play Blues, Americana, Jazz and pretty much anything else we like the sound of – See you soon."
Doors and bar open at 7pm.
Music starts just after 7.30pm
Tickets £13 or £10 or £6 – pay what you can or what it's worth to you. Book online, or pay on the door. Or in person at Rafikis Cafe or the Ashburton Information Centre behind the Town Hall.
To reserve tickets, and pay cash on the night email boxoffice@ashburtonarts.org.uk
The venue has level access from the street. If coming in a wheelchair, or mobility scooter, please email boxoffice@ashburtonarts.org.uk in advance if possible.
PA tickets usually available on request.