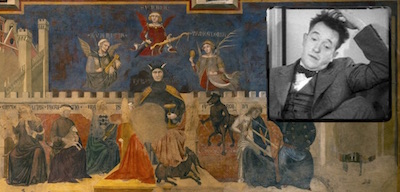 Date/Time
Tuesday 2 May 2023
7:30 pm - 10:00 pm
Categories Talk
Book here now: £10 full price • £8 or £5 or Free, if you prefer – please pay what you can*
War, disaster, inflation, scandals, injustice, lies, pandemics, misinformation, crises, strikes… Are we surrounded by a broken society? Prof. Joe Foweraker invites a panel of guests to talk about what they think is possible, then have a discussion between themselves and with the audience. They'll pick whatever they like to start with, and we'll go from there, wherever things lead.
Confirmed panelists:
Anthea Simmons – Editor in Chief, West Country Voices
Dr Karen Scott – Senior Lecturer, Dept of Poilitics, Exeter University
Guy Singh-Watson – founder Riverford Organic Farm
Josiah Meldrum – co-founder Hodmedods see his interview here with Rob Hopkins
Professor John Heathershaw – Professor, Dept of Politics, Exeter University
Image: Part of The Allegory of Good and Bad Government, a series of three fresco panels painted by Ambrogio Lorenzetti, which are on display in the Palazzo Pubblico, Siena, Italy.
==
This is part of the Tinners Moon Festival 2023. See ashburtonarts.org.uk/tinnersmoon2023 for more about all of the events. All tickets at wegottickets.com/tinnersmoon2023
* We usually have three ticket prices – please pay what you can. If you can pay the full price, that's great. If choosing a cheaper ticket allows you to come to more things, then please do! Ticket receipts are split between the artists (it's usually their livelihood!) and the arts centre (keeps the place going). Except on the rare occasions when we have a sellout gig on our hands, it's always better to have someone here in the audience than an empty seat, so genuinely, please pay whatever you can.
See Access, Tickets & Finding Us for more about why there are three ticket prices, plus other useful info about coming to events at Ashburton Arts Centre: getting here, parking, loos, PA tickets, etc.