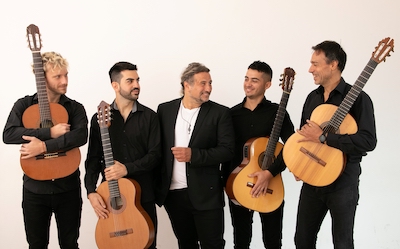 Date/Time
Sunday 1 October 2023
7:30 pm - 10:00 pm
Categories Music
Book here now: £18 full price • £12 or £9 if you prefer – please pay what you can*
Prepare for an emotional rollercoaster as you are immersed in the passion of Argentinian music and poetry caressed by the distinguished sound of world renowned troubadour Martin Alvarado.
Described as the best voice in Buenos Aires, the charismatic tenor infuses his carefully-chosen repertoire, with warmth, colour, nuance and sensitivity. His interpretations, whether singing with a full symphony orchestra, a jazz big band or with just his tenor voice and a guitar in front of a handful of people, have transcended language barriers and driven an illustrious two-decade globe-trotting career, awards and 11 album releases. In recognition of his significance as a cultural ambassador for Argentina, the National Academy of Tango officially declared him as a Maestro in 2019.
Martin will be joined on stage by fellow 'porteños' from the city of the Rio de Plata, the talented Gerardo Villar & Los Aguirre guitar quartet, who are making their UK debut. Together they share the authentic sound of old Buenos Aires, with added 21st century flair, delivering a programme of tangos by Astor Piazzolla and other major protagonists, such as Carlos Gardel, plus other folkloric styles from their homeland.
Prepare to find yourself laughing, at times, and maybe also shedding a tear. But most of all find yourself transported to the heart and soul of tango in its most genuine and artistic form.
"The world needs to experience this extreme form of aural pleasure… totally mesmerising, a tango epiphany." Max Reinhardt, BBC Radio
"Completely beguiling tenor" Mary Ann Kennedy, BBC Radio 3
"One of the most renowned voices in tango in the world today" Top tango Radio LA2x4, Buenos Aires
"The best voice in Buenos Aires" the late Hector de Rosas, former singer with Astor Piazzolla
* See Access, Tickets & Finding Us for more about why there are three ticket prices, plus other useful info about coming to events at Ashburton Arts Centre.