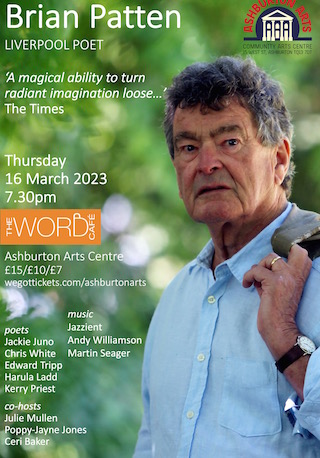 Date/Time
Thursday 16 March 2023
7:30 pm - 10:30 pm
Categories Comedy
Book here now: £15 full price • £10 or £7 if you prefer – please pay what you can*
The Word Café has happened in London and Edinburgh, and now comes to Ashburton. It features live music and many masters of the written and spoken word. We're delighted to welcome legendary Liverpool poet Brian Patten, who'll do a whole set of his poetry.
Also featured are:
Poets: Harula Ladd, Jackie Juno, Edward Tripp, Kerry Priest and Chris White
Co-hosts: Ceri Baker, Poppy Jayne-Jones and Julie Mullen
Musicians: Jazzient, Martin Seager on keys, Andy Williamson on Sax
Brian Patten
Brian Patten was born in 1946 and made his name in the 1960s as one of the Liverpool Poets, alongside Adrian Henri and Roger McGough. Their joint collection, The Mersey Sound (1967), has been credited as one of the most significant anthologies of the twentieth century for its success in bringing poetry to new audiences, and is now a Penguin Modern Classic.  His books have since been translated into Arabic and many European languages. An accomplished performer, he has performed his work in venues as varied as The Islamic Students Union in Khartoum and the Royal Festival Hall on London's South Bank. Proudest moment in Brian's career? "It was Stephanie Cole reading my poem So Many Different Lengths Of Time at Ken Dodd's funeral."
---
Ceri Baker
Ceri is the winner of the 2022 WOMAD festival poetry Slam, the Spork Poetry Dead Poets Slam winner and most recently won an old pot noodle cup full of  ash at the Exeter Worst poet slam. She's the host of Ashburton's new spoken word and poetry night,
Speakease at Rafikis
. Chris White says of Ceri: 
"You can't help but be carried along by her warmth, her killer wit and deep compassion, as her words flow between fierce and funny, wondrous and wise."
Poppy-Jayne Jones
Poppy Jones is a passionate LGBTQ+ songwriter and poet living in South Hams. She tends to focus on social unrest, relationships and nature, blurring the lines between the topics.  A review of her book, Between Reeds, includes: "I came into the book, standing there, gaping with longing, the striding, and the exquisite torment in equal measure of sensation.
Poppy-Jayne Jones's debut is statuesque in the oblique. In these pages there is secret rapture. Come to them. Come often."
Jackie Juno
Jackie Juno is best known for her dynamic hilarious stand-up poetry.  She has won lots of slams (including the Glastonbury Festival Poetry Slam), done two TEDx Talks, been chaired Bard and Grand Bard of Exeter for 8 years combined, and has hosted cabarets and poetry nights in various towns in Devon for decades.  She has five poetry collections published, the most recent being Priestess of the Powder Puff Experiment with Burning Eye Books (2022).
She is lead singer and lyricist with psychedelic rock band The Invisible Opera Company Of Tibet, "has a bit of a map fetish, and is so painfully hip that she needs a new one."
Harula Ladd
Harula is an active poet on the Southwest scene. She won the Exeter Poetry Slam in 2019,  has  performed in London and Bristol and is co-host of Word Stir, a monthly open mic afternoon in Totnes. She's written on the spot poems for conferences and at Torbay Hospital, and is passionate about community and the importance of the arts for everyone's well-being, individually and communally.
Julie Mullen
Julie Mullen was an actor for over twenty years. She found her way to 'The Poetry Café' in Betterton Street, Covent Garden in 2009 where she became a firm follower of the open mic. Her book Erotic Poetry For Vegans & Vegetarians was launched the same year and received four  stars from Three Weeks @ The Edinburgh Festival. Her one woman poetry show was performed at The Assembly Rooms, Edinburgh. She was 'Poet in Residence' for two years at The Pleasance Theatre in Edinburgh. Brian Patten commented on her book: "Does for sprouts what Wordsworth did for daffodils."  She has run The Word Café since 2010 in London, Teddington, Totnes and now Ashburton. The Word Café has worked with many poets including Alice Oswald, Roger McGough, John Hegley, Jo Bell, Kate Fox, Matt Harvey and a host of musicians. We are very excited to be working with Brian Patten at Ashburton Arts Centre.
Kerry Priest
Kerry Priest makes poetry and sound art. Her work has appeared on BBC Radio 3, the Minack theatre and the Royal Opera House. Kerry has been nominated for the Forward Prize and her pamphlet, The Bone Staircase, won the Live Canon pamphlet competition in 2020.
Edward Tripp
Edward Tripp is a surreal, 'stand-up poet,' weaving together comedy, spoken-word, visual arts and music, and performs at both Spoken Word venues and Stand-up Comedy Venues across the South West. In 2022, Edward performed his first, extended one-man show as part of Exeter's 'Locally Sourced' comedy festival. He has performed alongside comedian Spencer Jones, poet Rob Auton and poet/writer Hollie McNish
He's a multiple poetry-slam winner and won the Wordmakers Poetry 'Anti-Slam' in Bournemouth last year. Edward was appointed 'Bard of Exeter' in September 2022, and often creates unique work for events and communities.
Chris White
Chris is a poet, performer & 'submerging artist' festering in Exeter. He's performed his work at festivals & events from Tongue Fu to Latitude, is a multiple slam winner, a former 'Bard of Exeter,' plus the first Riddler in Residence at Exeter Cathedral. Recently, he's been working with the Barbican to make poetry on and about Plymouth buses. He also runs the poetry night 'Spork!' in Exeter, and regularly facilitates workshops in schools and community spaces. In his silly, surreal way he often talks about queerness, identity & ducks.
Jazzient
Bev Knowlden (sax) and Peter Shearn (vocals, guitar, loops) are part of the Totnes band Shadow Factory'. In this duo, Jazzient takes the rock/pop elements in a jazz/groove direction with guitars, saxes, percussion and electronics to generate hook-driven music that moves from ambient reflection through to upbeat dance. With thoughtful use of looping, the pair generates a range of original tunes and soundscapes that allow space for plenty of improvisation and freedom for Bev's expressive sax playing.
"…a riveting performance that captivated the enthusiastic audience over two sets"  St Marys Heritage Trust, Totnes
"sumptuous (sumptuous, I tell you) jazzy journeyings"  Matt Harvey
Martin Seager
Winner of the Herbert Kretzmer Best Lyricist award for his musical "MIND (THE GAP)", Martin Seager is a composer, songwriter and musical director. His songs and music have been performed on stage at the London Palladium, Royal Court and Soho theatres, TV on BBC2's political chat show The Midnight Hour and he musically directed Julian Clary on Radio 4's Byng Ballads: The Story of Douglas Byng. Locally, two new carols were sung by the Dartington Community Choir at Buckfast Abbey and he is currently working on a string quartet inspired by the River Dart. A new clarinet piece is being performed this weekend as part of the Ten Wee Devon Pints celebration of Devon breweries.
Andy Williamson
When you think of a jazz tenor sax, you probably think of a mellifluous, mellow sound with just a little bit of an edge, perhaps like the classic Pink Panther theme. That's what you get from Andy Williamson's old horn. He plays tunes from the 1930s right through every decade that followed, occasionally singing a bit of blues, or even an old folk song from his Shetland roots, or something he's picked up on travels in Russia, Cuba or Zanzibar.
* See Access, Tickets & Finding Us for more about why there are three ticket prices, plus other useful info about coming to events at Ashburton Arts Centre.