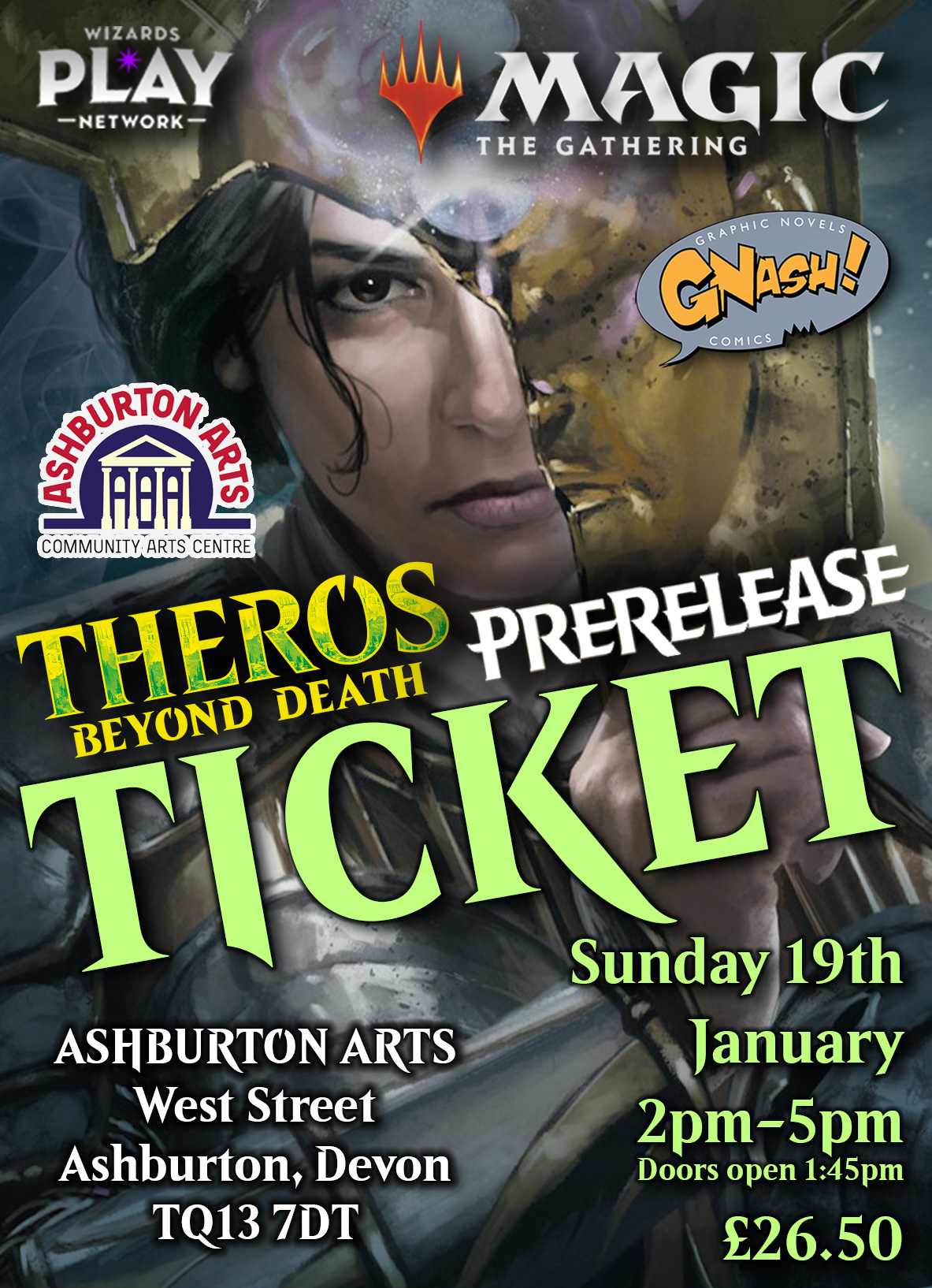 Date/Time
Sunday 19 January 2020
2:00 pm - 5:00 pm
Categories Community Event
Theros Beyond Death-tournament with prizes
Sunday 19 January 2pm (doors open at 1.45 pm)
The best fantasy strategic card game for all ages over 11. Everyone welcome. Or just come along and watch, play casual games of Magic. Help will be on hand for beginners!
£2 admission,
At our Ashburton Arts games day event, pay £2 for a table and play any game you like; DiceMasters, Dungeons & Dragons, Star Wars Destiny or any you'd like to bring along! There will also be a small library of games you can play too.
Prices:
– £26.50 on the door for the Pre-Release pack & tournament. £24 if booked by 10January). Buy tickets here or:
– £2 for a table to play other games (Dungeons & Dragons, Dice Masters, Star Wars Destiny and so on.)
Pre-Release Prizes:

1st Place winner: Goodie Bag, 4 'Theros: Beyond Death' Booster packs
2nd Place winner: 3 'Theros: Beyond Death' Booster packs
3rd Place winner: 2 'Theros: Beyond Death'Booster packs
Magic enters  the mythical world of Theros. Threros is a world where the gods are real and exist in the realm of Nyx, seen as the night's sky in the mortal realm. The gods have a tangible effect on the lives of the mortals of Theros, and in turn mortal belief shapes the gods. Nyx is connected to the collective unconscious of Theros, and the gods reflect mortal belief. Outside of a handful of exceptions, neither the gods nor the mortals of Theros are aware of this connection.