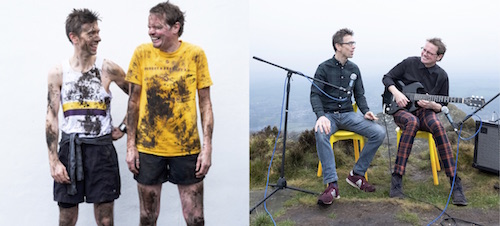 Date/Time
Friday 21 May 2021
5:00 pm - 6:30 pm
Categories Music
Admission is by donation – though to be sure of a place, please book here in advance.
Update, 21 May: Given the weather forecast, it's very likely that this performance will be happening inside the Arts Centre. See our 'pandemic policies' below.
These Hills Are Ours:  A tour with a difference
Over two weeks in May 2020, Daniel Bye and Boff Whalley were due to visit Devon with their show These Hills Are Ours. The plan was to connect Devon's two coasts north to south, performing each night at rural venues, and running between venues by day. During the middle weekend they planned to lead a choir on a walk between beauty spots, singing an original song and making the final short film in a series, charting similar expeditions around the country – here's one of the earlier ones: 
https://www.youtube.com/watch?v=A4jB6-0wsks
Obviously, none of that happened. But one year on from the original engagement, it looks as though it might just be possible this May.
Dan and Boff plan to run Devon coast-to-coast, performing shows along the way. Starting on the quay at Hartland, they'll perform in beauty spots, up hills, by waterfalls, in coves. They'll perform on the village green, or in a back garden. Each performance will be different, and each location will tell a different story about what we've been missing this past year.
The shows, the engagements with audience and singers, and the adventure of the journey running (and probably camping) between performances, will be filmed to create a documentary. It'll be a love letter to the magnificent Devon countryside from coast to coast.
And it'll be a story of everything we've missed over the past year – live performance, singing together and journeys in wild places.
Come and be part of the Ashburton installment. On the day they'll be running to us from Chagford.
This is planned to be an outdoor performance in the Arts Centre forecourt.  Admission is by donation – though to be sure of a place, please book here in advance.
Pandemic policies. This information will be updated as things change.
Update: April 2022
Face masks: In the Main Hall, on the ground floor, these are recommended at all times, but are optional. Anyone who sits upstairs in the balcony MUST wear a face mask – with NO exceptions (not even those who are exempt). This is to allow people who are clinically vulnerable to have a place to sit where seats are naturally separated, so: (a) to provide a place for people who want to be as distanced as possible from others, and with anyone nearby wearing a mask; (b) as virus particles when airborne are generally heavier than air, this helps to mitigate the risk of transmission from people sitting in the balcony to audience members below.
The windows and doors of the venue will be open, allowing fresh air to be constantly moving through. Although we have heating, this might mean that the ambient temperature is a little cooler than some might like, and audience members should dress accordingly.
Please, if you can, take a Lateral Flow test before coming to the Arts Centre, and if this is positive, don't come. These tests aim to pick up anyone who is infectious at the moment of testing, so please take the test as late as possible on the same day before coming to the Arts Centre. If you test positive, a refund or transfer of your ticket to another event can be arranged, if you let us know before the start of the event, by emailing boxoffice@ashburtonarts.org.uk.