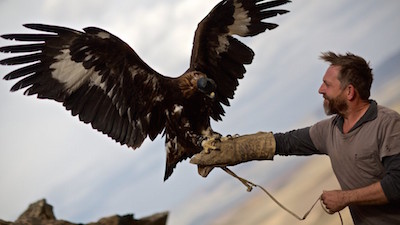 Date/Time
Friday 28 May 2021
7:30 pm - 9:30 pm
Categories Performances, shows, and events
Tickets for this event are all £5, and can be booked here.
Ashburton's Toby Strong will be talking about his work as an Emmy and Bafta award-winning Director of Photography. Toby specialises in wildlife and documentary cinematography, and will illustrate his presentation with some of his best clips. He will also bring along some examples of the equipment he uses, such as drones, buggies, cranes, sliders, gimbles, plus amazing cameras.
"My driving passion is to show people the beauty everywhere in this world. Beauty to celebrate…and our duty is to preserve and protect it. I believe there is no separation between the animal and human kingdoms; we are all the same. If we can just see through our subjects' eyes, we can tell their story, authentically and with respect."
Eagle Hunters of Mongolia (One Strange Rock)
Pandemic policies. This information will be updated as things change.
Update: April 2022
Face masks: In the Main Hall, on the ground floor, these are recommended at all times, but are optional. Anyone who sits upstairs in the balcony MUST wear a face mask – with NO exceptions (not even those who are exempt). This is to allow people who are clinically vulnerable to have a place to sit where seats are naturally separated, so: (a) to provide a place for people who want to be as distanced as possible from others, and with anyone nearby wearing a mask; (b) as virus particles when airborne are generally heavier than air, this helps to mitigate the risk of transmission from people sitting in the balcony to audience members below.
The windows and doors of the venue will be open, allowing fresh air to be constantly moving through. Although we have heating, this might mean that the ambient temperature is a little cooler than some might like, and audience members should dress accordingly.
Please, if you can, take a Lateral Flow test before coming to the Arts Centre, and if this is positive, don't come. These tests aim to pick up anyone who is infectious at the moment of testing, so please take the test as late as possible on the same day before coming to the Arts Centre. If you test positive, a refund or transfer of your ticket to another event can be arranged, if you let us know before the start of the event, by emailing boxoffice@ashburtonarts.org.uk.