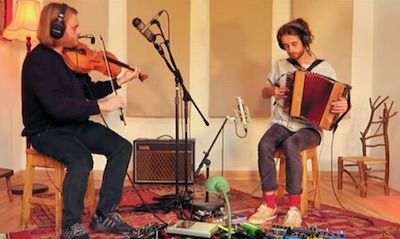 Date/Time
Thursday 16 February 2023
7:30 pm - 9:30 pm
Categories Folk
Book here now: £14 full price • £10 or £7 if you prefer – please pay what you can*
Two superb musicians from the UK's contemporary folk music scene, playing instrumental music on accordion and viola, along with various electronics which add extra colours to their sonic palette.
"Tom Moore & Archie Moss bring the resolute harmony of Moss's accordion and the texture and flow of Moore's Viola to both the studio and the stage. Whilst intrinsically influenced by both English and European traditional dance music forms, sonically they have their heads firmly in the present. Their compositions explore minimalism, repetition, and noise. All the while – the distinct pulse, push-pull, group intuition – these 'spectres' of traditional music still haunt their playing."  fRoots             
Listen now at duomooremoss.bandcamp.com  More at tommoorearchiemoss.com.
"Breathtaking inventiveness…sublime playing"  RnR  (Rock 'n' Reel Magazine)
"this is an album that marks where folk should have been had it not become too distracted by a green and pleasant land"  FATEA Instrumental album of the year 2020
"One of the most thrillingly original instrumentals I've heard in quite a while…perfect" Ambient Music Guide (Aus)
* See Access, Tickets & Finding Us for more about why there are three ticket prices, plus other useful info about coming to events at Ashburton Arts Centre.