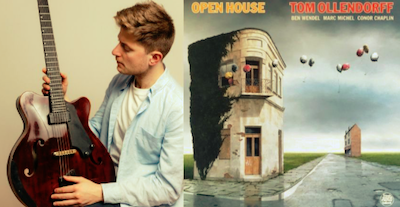 Date/Time
Saturday 3 June 2023
7:30 pm - 10:00 pm
Categories Jazz
Book here now: £15 full price • £10 or £7 if you prefer – please pay what you can*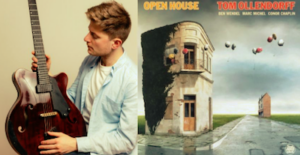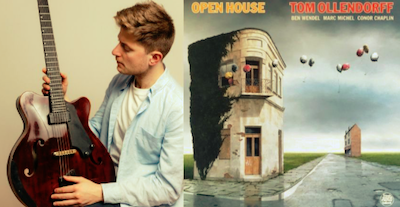 Tom Ollendorff is considered one of the most exciting young guitarists on the UK and International Jazz scenes. Known for his distinctive sound which blends virtuosic guitar playing with sophisticated harmonic and melodic ideas, his music elegantly mixes gracefully grooving songlike themes, baroque-like unaccompanied etudes and headlong fast-bop swing.
Tom Ollendorff, Guitar
Will Sach, Bass
Marc Michel, Drums
"A highly recommendable disc for those who care about the fate of jazz guitar", Musica Jazz
Four Stars, BBC Music/Jazz Journal
"Traditional, yet very classy", The Guardian
Open House is the new album from rising star guitarist Tom Ollendorff. Here's some more about it…
Retaining his longstanding musical partnership of Marc Michel on drums and Conor Chaplain on bass, Ollendorff now adds New York City saxophonist Ben Wendel in to the mix. The combination of a razor-sharp band that have worked with each other for many years, alongside an exciting new player with a natural synergy to the aforementioned group, makes Open House an exhilarating listen for jazz afficionado's and discerning music fans alike.
Tom Ollendorff's first album 'A Song For You' received a plethora of accolades, with The Guardian newspaper describing it as 'traditional but very classy' and both BBC Music Magazine and Jazz Journal awarding it 4 star reviews. While this inspiring debut undoubtedly placed the up and coming guitarist firmly on the map, Open House clearly demonstrates an evolvement and progression within Tom Ollendorff's art. The new album retains both the ethereal spirit and distinctive style that can be found in his previous work, but also adds an edge of confidence and maturity to the aural experience – new elements destined to excite listeners, that will ultimately push Ollendorff's career to the next level.
Speaking about his new work, Tom Ollendorff says: "The music on this album was written (in part) on the road whilst touring. Different places have always had a profound impact on my writing process and the opportunity to tour extensively, allowing me to visit new towns, cities and countries as well as reaffirming connections with locations that I had previously got to know and love were the catalyst for this album's creation.'
Tom Ollendorff has also worked alongside internationally respected musicians such as Geoff Simkins Bill McHenry, Jeff Williams, Nitai Hershkovits and Ari Hoenig, while leading jazz guitarist Gilad Hekselman has described him as "one of the world's finest guitarists", also saying that "his music is complex, yet rooted in melody and feeling" With Open House launching in London on June 10th, Paris June 22nd and then other international dates throughout the year including Finland, Italy, Spain, Ireland and Slovenia, this clearly demonstrate growing demand for Tom Ollendorff's music around the world. The new album Open House will serve to further increase this international exposure.
Increasingly recognisable for the nuanced and subtle sound on his instrument of choice, Tom Ollendorff's new album is both refreshing and soothing – a landmark release for UK jazz and the future of guitar-led musical excellence.
* See Access, Tickets & Finding Us for more about why there are three ticket prices, plus other useful info about coming to events at Ashburton Arts Centre.