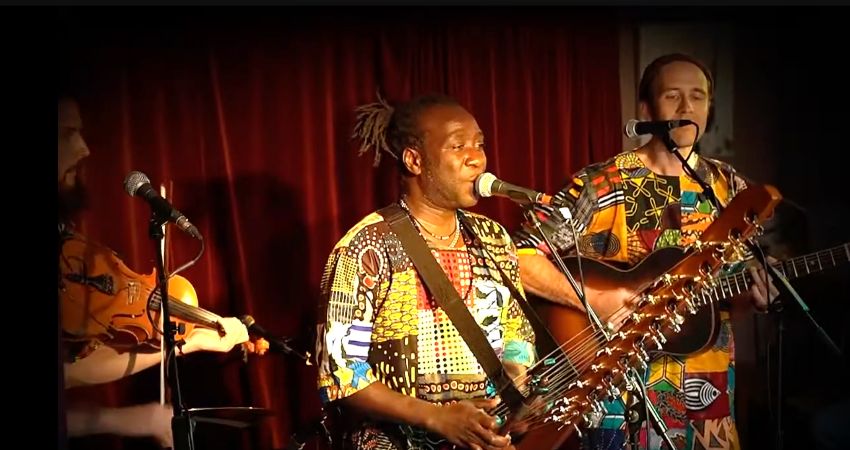 Date/Time
Thursday 12 October 2023
7:30 pm - 10:00 pm
Categories Music
Book here now: £15 full price • £10 or £7 if you prefer*
Who would have guessed that a chance encounter between buskers in the streets of Bath, England more than a decade ago would lead to a new musical adventure in 2020? Amadou Diagne from Senegal and French-American Cory Seznec hit it off that day, planting the seeds of a future collaboration in their minds.
Life embarked them on different touki (journey in Wolof, Amadou's mother tongue), but with the recent support of an Arts Council of England grant, Amadou and Cory have been able to see their seedling shoot up into the light. Rehearsals in Paris led to a recording at Real World Studios in Somerset. 13 tracks were recorded in two long studio days, followed by two additional days putting final touches on the album at producer Oscar Cainer's studio in north London.
The result is a highly original project borne of a genuine dream to communicate curiosity and bring different worlds together through music. Here the kora dances playfully with and around the banjo and the guitar, the calabash and other percussion add powerful, driving beats, and silky voices entrance the listener. The influences are many, and rather than remaining in any one tradition, the touki – the musical voyage itself – is the destination.
"Scintillating…the sequel to Ali Farka Touré & Ry Cooder's Talking Timbuktu, revisited and enriched with unique kora-banjo-acoustic guitar combinations of a rare elegance." -Rolling Stone France
Touki: Amadou Diagne & Cory Seznec
touki.bandcamp.com