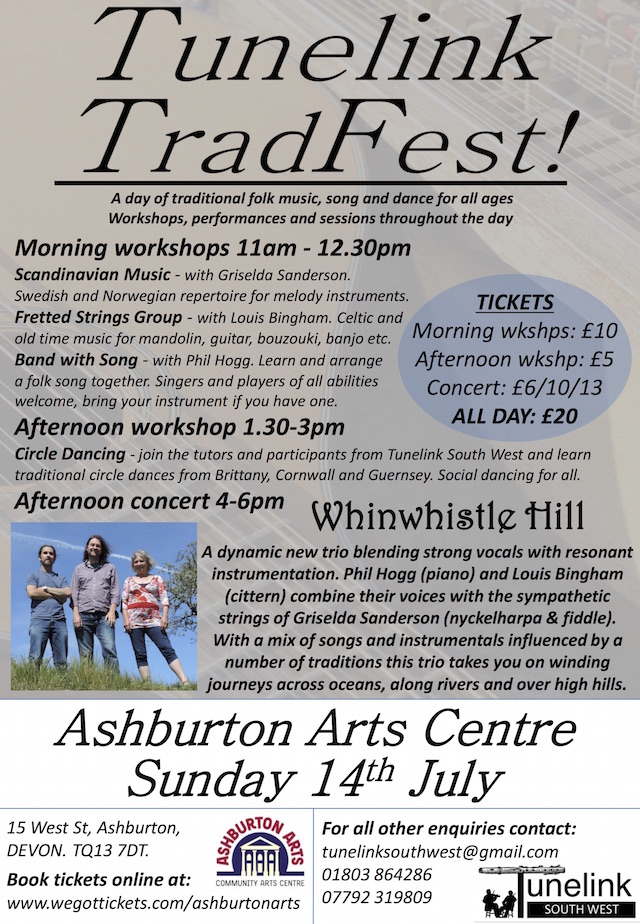 Date/Time
Sunday 14 July 2019
11:00 am - 6:00 pm
Categories Folk
A day of traditional music, song and dance for all ages with workshops, dance, sessions and performance throughout the day.
Morning workshops
11am to 12.30pm- entry to all workshops: £10
Choose from:
Scandinavian Music with Griselda Sanderso: Swedish and Norwegian repertoire for melody instruments.
Fretted Strings with Louis Bingham. Celtic and old time music for mandolin, guitar, bouzouki, banjo etc.
Band with Song with Phil Hogg. Learn and arrange a folk song together. Singers and players of all abilities welcome, bring your instrument if you have one.
Afternoon workshop
1.30pm-3pm – entry: £5
Circle Dancing – join the tutors and participants from Tunelink South West and learn traditional circle dances from Brittany, Cornwall and Guernsey. Social dancing for all.
Afternoon concert
4pm-6pm – Whinwhistle Hill – Tickets: £6/10/13 you choose
A dynamic new trio blending strong vocals with resonant instrumentation. Phil Hogg (piano) and Louis Bingham (cittern) combine their voices with the sympathetic strings of Griselda Sanderson (nyckelharpa & fiddle). With a mix of songs and instrumentals influenced by a number of traditions this trio takes you on winding journeys across oceans, along rivers and over high hills.
For all enquiries contact:
tunelinksouthwest@gmail.com
07792 319809
01803 864286