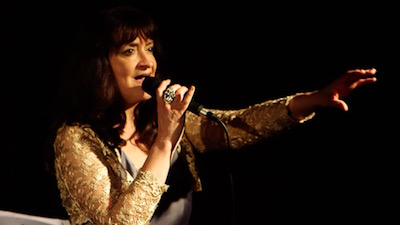 Date/Time
Thursday 7 April 2022
7:30 pm
Categories Jazz
Book here now – £14 full price • £10 or £7 if you prefer
Singer Esther Bennett and saxophonist Hannah Horton have joined forces to present a fabulous evening of jazz & contemporary song & music with a world class trio.
Esther Bennett – vocals
Hannah Horton – saxophones
Craig Milverton – piano
Jim Rintoul – bass
Coach York – drums
Hannah Horton
Jazz Saxophonist Hannah is a regular performer on the London Jazz scene, wowing audiences with her hallmark velvet tone and versatility on Tenor and Baritone Sax.
"Hannah makes the big beast of a baritone sax sound like an angel"  Ian Shaw
"Everyone was totally captured by this cool, young lady with the shock of pink hair, and matching pink shoes"  St Peter's Review
Described as sassy, captivating, emotive, stylish, unforgettable, and timeless, Hannah has performed at some of the leading jazz venues including Ronnie Scott's, The 606, Pizza Express Jazz Club and The Vortex Jazz Club, and with artists including Ian Shaw, Amy Winehouse, John Etheridge, Tina May, Georgia Mancio and Roger Beaujolais. She performs in Europe and the USA with her own and other jazz acts.
Hannah's music spans jazz, latin, funk, and blues along with classical influences. Her unique tone, melodic and creative improvisation, and sensitive phrasing have become her signature sound which is beautifully captured in her debut album Forget Me Not.
Esther Bennett
"Esther Bennett is one of the London jazz scene's most highly respected and widely loved jazz vocalists. She juxtaposes sensitivity with a sparkly sense of humour, her song delivery leaving audiences utterly compelled" Peter Kaczmarski, Jazz Cafe Posk
Her repertoire includes original material, jazz standards, highly individual arrangements of contemporary songs and songs from the Duncan Lamont songbook. Her album Just in Time (available on Jazz CDs)  was produced by Award winning jazz singer Ian Shaw and received favourable reviews :
"Vocalist Esther Bennett's many virtues include…a  smokily appealing and a winning sense of humour" Jazz Wise Magazine
"Knock 'em dead singer"  Evening Standard
"A great favourite at the club" Steve Rubie, 606 Jazz Club