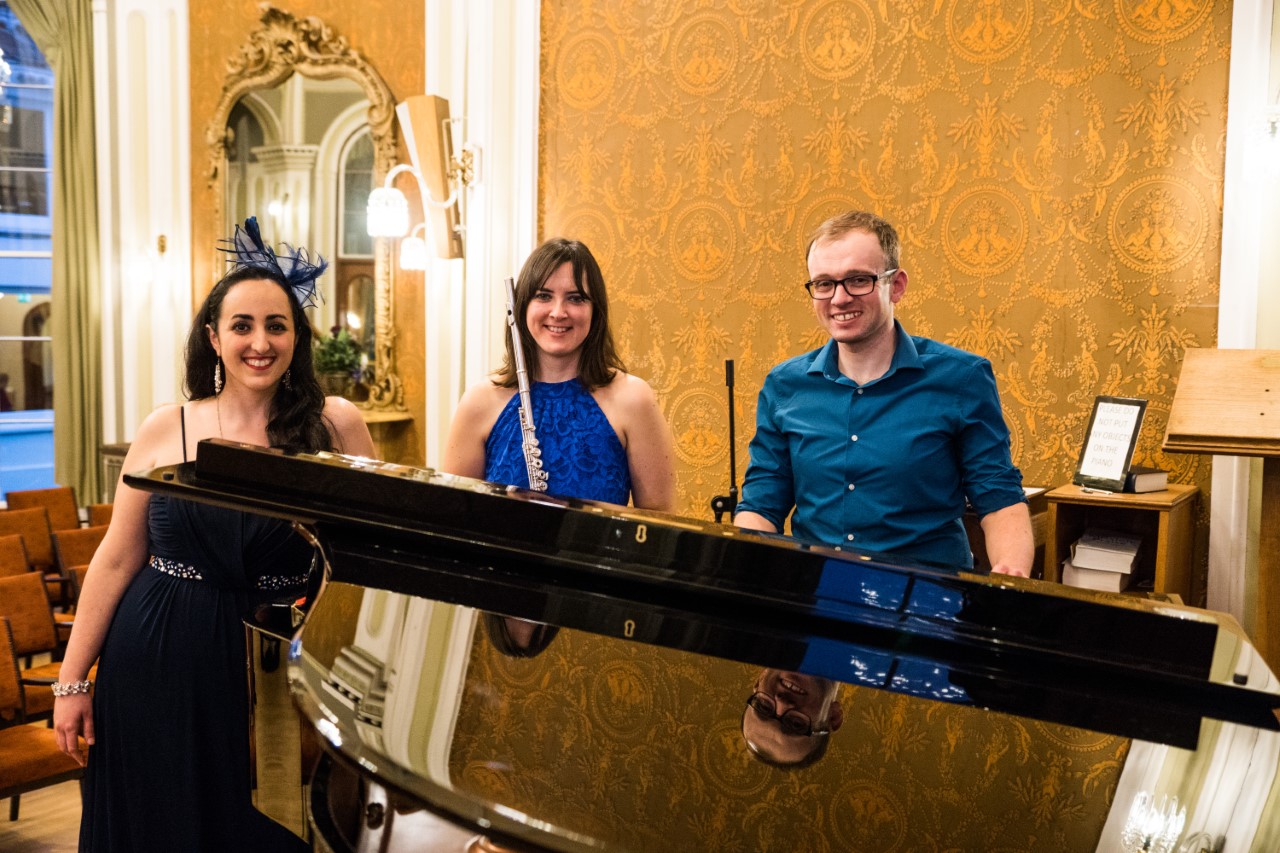 Date/Time
Sunday 1 May 2022
1:30 pm - 4:00 pm
Categories Classical
Book here now -£10 full price • £8 or £5 if you prefer
This programme from these three fabulous musicians  offers the listener a melodious escape into a world of stories and birds, some familiar and some unusual, as well as new music inspired by regional poetry by local composer Will Carnell, composed especially for Volo Trio. 
 It also features music by Delibes, Saint-Saens, Glinka, Rimsky-Korsakov, Mouquet, Chaminade, Chopin and Amy Beach.
Volo Trio are international coloratura soprano Claudia Alvarez Calderon, experienced and creative flautist Ruth Molins and award-winning pianist Alex Wilson.
The word 'volo' means 'flight' in Italian, and their performances are inspired by the flight of birds and flights of imagination. Audiences describe them as "stunning"; "really beautiful";  "truly the stuff of fairytales: enchanting, magic and wonderful" and "amazingly talented".
Based on Dartmoor, Peruvian-Italian coloratura soprano Claudia Alvarez Calderon trained in Lima, Rome, Pesaro and New York and regularly performs in the UK, Italy and her native Lima as a recitalist and opera soloist.  She has performed in venues such as Rome Opera House, St Anna in Vatican City, St George in Milan and regularly tours with the Italian opera company "Gli Amici di Fritz". 
Claudia also maintains an active singing schedule in Devon and collaborates with local musicians. She has sung live at BBC Radio Devon, for Dart Music Festival and toured village halls with "Diva on your Doorstep", an initiative to make opera accessible by bringing it to smaller communities.
Flautist Ruth Molins is much in demand as a freelance musician. She performed as a soloist with Exeter Symphony Orchestra in 2012 (Rutter, Suite Antique) and again in 2015 (Mozart, Concerto for Flute and Harp). She has been featured on Phonic FM, Soundart Radio, BBC Radio Devon and BBC Radio 3. She is a founding member of Flute Cake, the Marsyas Quartet, Zephyr Duo and Volo Trio.
Devon-born, she believes in the value of high quality, professional music within the community she grew up in. In 2019 she curated and performed the 'Flute@37' concerts, a series of intimate performances and talks given from her own music studio. During the 2020 lockdown, she performed regular Facebook live concerts, connecting with regular weekly listeners from all over the world. 
Ruth also composes and in 2017, her composition, 'Make Room' was performed at Waterstones, The Glorious Art House and Studio 36 in Exeter. She teaches flute at Exeter School and within her own private practice. In 2021, Ruth was invited by Pearl flutes artist, Elizabeth Walker, to record a performance video with practice tips, as part of the Furstenau challenge project.
Alex Wilson is a versatile pianist with interests ranging from cutting edge new music to fascinating repertoire by forgotten composers.  Alex is a former British Contemporary Piano Competition finalist, Park Lane Group Young Artist and performer of new music across Britain and Europe as soloist, accompanist and chamber musician.  
His self-curated tour of music by the lost composers of World War One has achieved large audiences and received critical praise.  Alex's debut solo CD – a recording of works by WW1 composer F.S.Kelly – was released in spring 2020.   
Alex believes strongly in taking professional, ambitious music projects out of the big cities and loves working with musicians from across the South West. 
Alex teaches piano at Colyton Grammar School.
More about the trio: volotrio.weebly.com
See Access, Tickets & Finding Us for more about why there are three ticket prices, plus other useful info about coming to events at Ashburton Arts Centre.