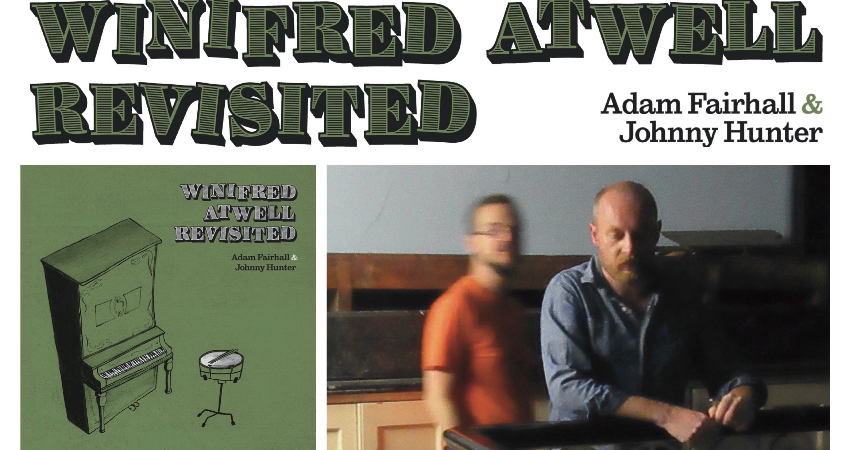 Date/Time
Sunday 5 December 2021
7:30 pm - 10:00 pm
Categories Jazz
Both stalwarts of Manchester's creative music scene, Adam and Johnny's piano/drums duo was first established as a vehicle to explore early jazz forms through an avant garde lens – something for which this combination is perfectly suited, being a favoured format in both Harlem stride and free music. Their latest project explores the repertoire and idiom of groundbreaking Trinidadian pianist Winifred Atwell, a much neglected figure of 1950s British popular music.

Atwell was enormously popular in Britain and Australia in the post-war era, selling over 20 million records, yet she is barely a footnote in jazz histories and histories of popular music. In a sense, her music falls between stools; containing too little improvisation to be regarded as 'genuinely' jazz, but too much a part of the murky pre-rock era of popular music to be considered by pop histories.

Nonetheless, Atwell forged a pioneering career as a Black female instrumentalist – she was the first Black person to have a no.1 hit in the UK. Her music brought together aspects of the honky tonk piano craze sweeping America with the music hall and pub piano traditions of Britain, resonating deeply with the mid-century revivals of ragtime and traditional jazz in both the US and the UK, and making boogie and ragtime household sounds. In this sense Atwell was a nexus point of various streams of transatlantic popular music.

Adam's interest in ragtime, stride, barrelhouse, boogie and blues has been well-documented on previous albums, including The Imaginary Delta (SLAM, 2012; named Album of the Year by influential blog Bird is the Worm) and his solo album Friendly Ghosts (Efpi, 2017). His ability to mix these idioms with contemporary approaches has resulted in a distinctive pianistic voice. Johnny's versatility and inventiveness as a drummer and composer has resulted in an equally individual musical personality. As with Adam, his vocabulary ranges across eras, from ragtime snare techniques (especially evident on the suitcase drum setup used here) to deft swing brushwork and clattering free textures.

Johnny and Adam have forged a close musical understanding via a number of projects, including their piano trio Fragments (Fragments, Northern Contemporary, 2019) and organ trio Revival Room (Revival Room, Efpi, 2021). Their communication, quick-thinking and sheer playfulness is fully evident in any context, but particularly so in this duo format. Winifred Atwell Revisited is not only a respectful tribute to a hugely important and overlooked musician, but an engaging and inventive album in its own right.
Adam became interested in Atwell after a conversation with promoter Tony Dudley-Evans, in which Tony referred to the work on Atwell by a mutual friend, jazz academic George McKay. During his appearance as part of former Bad Plus pianist Ethan Iverson's residency at London Jazz Festival in 2018, Adam played a tune from Atwell's repertoire (If You Knew Susie), receiving many comments from audience members who remembered her music fondly. After proposing a more in-depth exploration of Atwell's music to Johnny, the duo debuted the project at Manchester Jazz Festival in 2019, and following Covid delays, they were finally able to record the music early in 2021. The project tours in England from November 2021 to January 2022 to coincide with the album release on Efpi Records on 07 January 2022.
With the exception of Boogie For Atwell, the album tracks are all selected from Atwell's repertoire and range from ragtime to pub songs and Latin American music. The album opens with Black and White Rag, composed by George Botsford in 1908. Atwell recorded it as a B side in 1952, and is perhaps her best-known performance. The record became a million-seller, and Atwell's version was used as the theme tune for the long-running BBC2 snooker series, Pot Black.

Roll Out the Barrel (aka Beer Barrel Polka) has a convoluted composition history. The music was written in 1927 by Jaromír Vejvoda, and with the addition of English lyrics by Lew Brown and Wladimir Timm became a hugely popular and widely-recorded song during World War 2. A common pub singalong number, Atwell recorded it as part of her medley Make It A Party, which reached no. 7 in the UK charts in 1956. Another popular singalong number, If You Knew Susie was composed by Buddy DeSylva and Joseph Meyer in 1925. It was the first song on Atwell's 1953 medley Let's Have A Party, which reached no. 2 in the UK charts.
Composed in 1934 by the Cuban singer and composer Margarita Lecuona, Taboo is a widely-recorded piece which demonstrates the prevalence of Latin American music with African roots in mid-century popular music. Atwell released it as a single with Lady of Spain in 1952. Boogie for Atwell is a free improvisation by Adam and Johnny which references the boogie woogie playing Atwell was well known for. Listen out for the quotation of the sing-song melody of Atwell's composition Cross Hands Boogie about halfway through.

Finally, My Old Man (Said Follow The Van), also known as Don't Dilly Dally on the Way, is a music hall song written in 1919 by Fred W. Leigh and Charles Collins. Although composed relatively late in the history of music hall, it demonstrates the roots of the pub singalong vernacular which informed Atwell's massively popular medleys. It was another of the songs in Atwell's 1956 medley Make It A Party.
For Winifred Atwell (1914-1983).
Pandemic policies. This information will be updated as things change.
Update: April 2022
Face masks: In the Main Hall, on the ground floor, these are recommended at all times, but are optional. Anyone who sits upstairs in the balcony MUST wear a face mask – with NO exceptions (not even those who are exempt). This is to allow people who are clinically vulnerable to have a place to sit where seats are naturally separated, so: (a) to provide a place for people who want to be as distanced as possible from others, and with anyone nearby wearing a mask; (b) as virus particles when airborne are generally heavier than air, this helps to mitigate the risk of transmission from people sitting in the balcony to audience members below.
The windows and doors of the venue will be open, allowing fresh air to be constantly moving through. Although we have heating, this might mean that the ambient temperature is a little cooler than some might like, and audience members should dress accordingly.
Please, if you can, take a Lateral Flow test before coming to the Arts Centre, and if this is positive, don't come. These tests aim to pick up anyone who is infectious at the moment of testing, so please take the test as late as possible on the same day before coming to the Arts Centre. If you test positive, a refund or transfer of your ticket to another event can be arranged, if you let us know before the start of the event, by emailing boxoffice@ashburtonarts.org.uk.