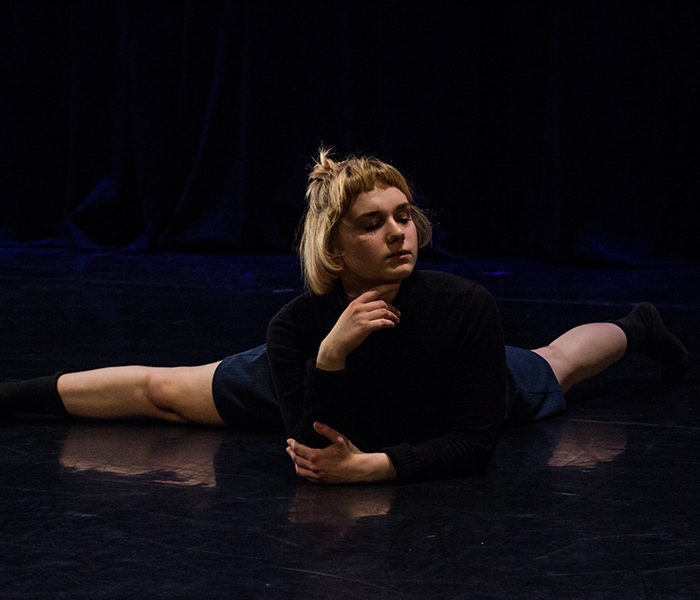 Date/Time
Wednesday 26 May 2021
7:30 pm - 9:30 pm
Categories Dance
£10/£8/£5 – Get your tickets here
"At the point of winter.
A peculiar little bird
that dresses up
in witch's underwear.
At the heart of things.
To slay the WREN,
quo' brither and kin."
Created and directed
by Angus Balbernie
Performed and co-devised
by Alice Smith.
A woman dances alone, and a wren's wings swing at 700 bpm.
She has to stay aware and safe, and the wren is hunted down.
Wren takes from the old stories and songs of "cutty wren", and from the poem "Half Hanged Mary" by Margaret Atwood and re-imagines them for 2021. The cutty wren was traditionally hunted and killed on the winter solstice or St Stephens day each year, and then left hanging on branches to bring good luck for the new year. Half Hanged Mary was Mary Webster, tried and hung as a witch in New England around 1680. Both the wren and Mary were innocent and left hanging… Has anything really changed today?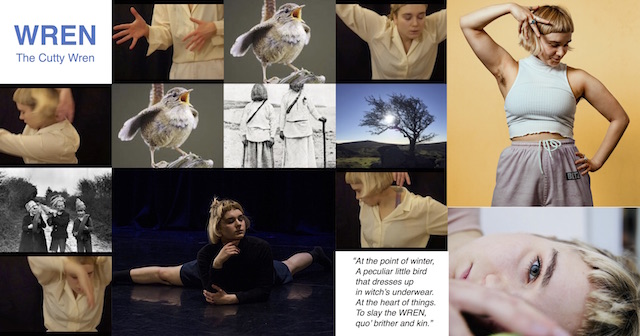 Angus Balbernie has created around 85 pieces, directed, performed, taught and improvised across Europe, North and South America, Canada and Asia.
Alice is a Bristol-based dancer, performance maker and Pilates teacher. A graduate of Falmouth University, she has worked as a performer for various companies and artists across the UK and internationally, including Cscape Dance Company (Cornwall), filmmaker Karni Arieli, Lavrak Circus (Bristol), Penultimate Physical Theatre (Bristol) and Silke Z/Resistdance (Cologne). In 2020 she founded a dance company, Big and Milky Co, and is currently developing the company's debut work "Well, That Sucks".
Doors open at 7:00. Start time 7:30.
Made with support from Peninsula Dance Partnership and Liebig 12 Berlin.
Pandemic policies. This information will be updated as things change.
Update: April 2022
Face masks: In the Main Hall, on the ground floor, these are recommended at all times, but are optional. Anyone who sits upstairs in the balcony MUST wear a face mask – with NO exceptions (not even those who are exempt). This is to allow people who are clinically vulnerable to have a place to sit where seats are naturally separated, so: (a) to provide a place for people who want to be as distanced as possible from others, and with anyone nearby wearing a mask; (b) as virus particles when airborne are generally heavier than air, this helps to mitigate the risk of transmission from people sitting in the balcony to audience members below.
The windows and doors of the venue will be open, allowing fresh air to be constantly moving through. Although we have heating, this might mean that the ambient temperature is a little cooler than some might like, and audience members should dress accordingly.
Please, if you can, take a Lateral Flow test before coming to the Arts Centre, and if this is positive, don't come. These tests aim to pick up anyone who is infectious at the moment of testing, so please take the test as late as possible on the same day before coming to the Arts Centre. If you test positive, a refund or transfer of your ticket to another event can be arranged, if you let us know before the start of the event, by emailing boxoffice@ashburtonarts.org.uk.