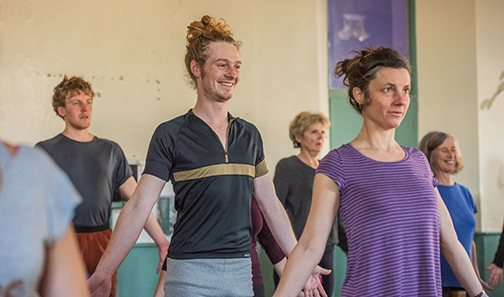 Date/Time
Friday 27 March 2020
All Day
Categories Regular events
Regretfully I am cancelling classes for at least the next two weeks , it feels to me like a moment when we have to decide for ourselves and act in the way that seems right to support each other without waiting to be told . I believe that staying close to home if we can may help to slow down the spread of the virus,protect the vulnerable and ease the burden on the nhs . I will be posting suggestions and ideas to inspire you to practise at home in the next day or two . I would be happy to chat on social media or meet on Skype or Zoom to practise or talk about meditation or yoga.
Chris Willis, Saturday 14 March
---
A wide range of yoga, meditation and mindfulness sessions taught and organised by Chris Willis of South Devon Iyengar Yoga.
With eight classes a week, whether you want to improve your posture and stand up straighter, or stand on your head, there is a class for you to help build strength, develop flexibility, improve joint function and deepen the ability to relax and let go of tension.
Prices
Class rate for 6 weeks is:
£42 (£7 a class) for an hour and a half class
£36 (£6) for an hour
£48 (£8) for two hours
Class schedule
The schedule stays the same.
MONDAY
8.30-9.00 Silent sitting all welcome (you may arrive and leave at any point) no charge
9.15-10.45 Beginners drop in rate £9
11.00-12.30 Gentle drop in rate £9
6.00-7.30 Experienced drop in rate £9 
WEDNESDAY 
8.30-9.00 Silent sitting all welcome (you may arrive and leave at any point) no charge
9.15-10.45 Experienced drop in rate £9
11.00-12.15  Gentle  drop in rate £9
6.00-7.30 Experienced / Fit Beginners  drop in rate £9
7.30-8.30 Beginners  drop in rate £8
FRIDAY
8.30-9.00 Silent sitting all welcome (you may arrive and leave at any point) no charge
9.00-11.00 Experienced  drop in rate £10
Questions and feedback